DART and Short Hop Zone Fares
DART and Short Hop Zone includes all stations in the Dublin area from Greystones to Balbriggan and from Dublin City Centre stations to Maynooth and from Dublin Heuston to Hazelhatch including all DART services.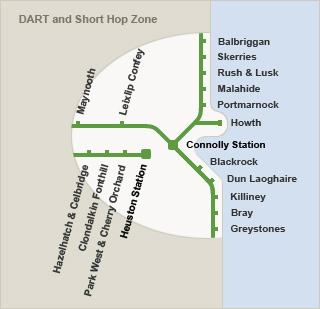 Save up to 18% on single tickets in the short hop zone using a leap smartcard.
If you travel regularly you should consider a Taxsaver ticket and save up to 52% on your train tickets.
Fares Calculator
Select an origin and destination below from the drop down options and select "Go" to view the Short Hop Zone fares. Go to our Ticket Information section for an explanation of the tickets available.
*Schoolchild and Scholar Smart Card fares are subject to time and day restrictions and are only available on Smart Cards.
Day/Weekly/Monthly Tickets
We have a wide range of tickets and fares to suit everyone, so whether you are travelling to work or college every day or whether you just want to take a day trip with the family, then we have the ticket just for you.
These tickets offer unlimited travel within the short hop zone (see map above) for the specified time period. The bus portion of these tickets refers to Dublin Bus services and not any feeder bus services which may be in operation around Dublin.
| | |
| --- | --- |
| Adult & Family Day Tickets | Price |
| Adult All Day Rail Only | €11.10 |
| Adult All Day Rail/Bus | €13.20 |
| Adult All Day Rail/Luas | €11.80 |
| Family All Day Rail Only | €18.90 |
| Family All Day Rail/Bus | €19.50 |
| | |
| --- | --- |
| Adult '3 Day' & Weekly Tickets | Price |
| 3 Day Rail Only | €23.80 |
| 3 Day Bus & Rail | €27.00 |
| Weekly Rail Only | €40.50 |
| 7 Day Bus & Rail | €46.50 |
| 7 Day Bus & Luas | €46.50 |
| | |
| --- | --- |
| Adult Monthly Tickets | Price |
| Monthly Rail Only | €134.00 |
| Monthly Bus & Rail | €156.00 |
| Monthly Rail, Bus & Luas | €218.00 |
| Monthly Rail/Luas | €177.00 |
| CIE ID is required for these tickets, for more information go to our ticket information section. | |
| | |
| --- | --- |
| Student Weekly & Monthly Tickets | Price |
| Weekly Rail Only | €27.50 |
| Weekly Rail & Luas | €39.00 |
| Monthly Rail Only | €93.50 |
| Monthly Bus & Rail | €119.00 |
| Monthly Rail/Luas | €137.00 |
| Leap Student Travelcard is required for these tickets, for more information go to our student section. | |
| | |
| --- | --- |
| Adult Annual Tickets | Price |
| Rail Only | €1340.00 |
| Rail & Bus | €1560.00 |
| Rail & Luas | €1770.00 |
| Rail, Bus & Luas | €2180.00 |
| CIE ID is required for these tickets, for more information go to our ticket information section. | |