Student life can be hectic, we get it! We want to make travelling between home and college the hassle free, relaxing part of your student life.
Single student tickets are always half the price of a return ticket giving you the flexibility you need if your plans change
Available online until 60 mins before departure or until the train is sold out
FREE changes & cancellations

online up to 60 mins prior to travel, so long as you haven't printed your ticket
No Student Card Yet? No Problem
If you are travelling to college for the first time and do not have a student ID or Young Adult Leap Card don't worry you can still avail of our student fares using your college acceptance letter as student ID. Don't forget to bring your acceptance letter with you when you travel.
A Young Adult Leap Card is the ideal way for getting around Dublin by DART or Commuter Rail. Young adults aged 19 – 23 years inclusive can travel across rail, bus and Luas in Dublin for just €1 within 90 minutes of their first tag on with the TFI 90 fare.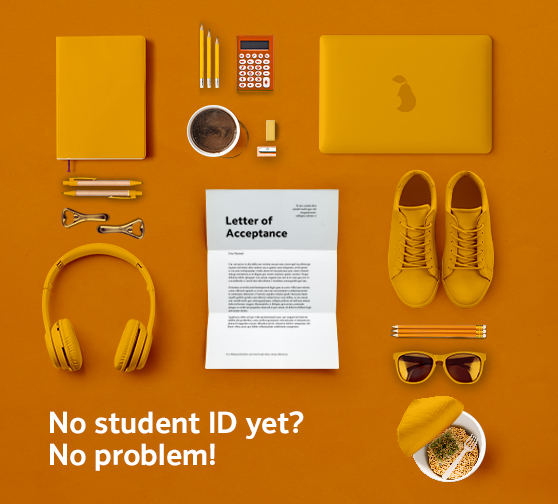 Save an average of 10% online with
our exclusive student deals
Lowest student fares available online
Save up to 10% on the price of your student ticket by booking online now.
Terms & Conditions
Once tickets are printed off you cannot change or amend your booking. If you book a return ticket your return journey cannot be amended once you print off the return ticket for your outward travel. Always book a single ticket!

Please note you must have one of the following valid forms of student ID to avail of discounted Student Fares:

Valid National and International Student ID Cards,

Valid National and International Student ID Cards

are accepted when purchasing our Student Intercity tickets. ID cards must have either an expiry date or a date of issue within 4 years. Where there is no expiry date or date of issue the first two digits of your Student ID number is considered the year of issue. Students who are still in college after the 4 years have expired will need to apply for a

Young Adult Leap Travelcard

Trinity College Dublin Digital Student ID Card (See terms and conditions)

Second Level ID Card with an expiry date or a date of birth, where a date of birth is the only indication of validity the student must be 18 years or younger to use the card

Valid Irish Passport (2nd level students up to and including 18 years)

Child Leap Card - 16 to 18 years inclusive (Personalised)

When purchasing from a ticket machine enter the first six digits of your student ID number when requested for your Student Travelcard number (not applicable to weekly or monthly tickets)

Failure to produce a valid ticket and the appropriate student ID when travelling will result in a fine of €100 together with the relevant unpaid fee

If there is no photograph on the Student ID, the student must provide another form of photo ID that identifies them as the person on the Student Card

Prices based on flexible fare tickets booked online more than 4 days from the time of travel, subject to availabilty. Prices may increase due to demand.

Tickets can only be purchased up to 90 days in advance of travel.