COVID-19 Information
06 June 2020
Service Information, Refunds, information from the HSE, and a note from our CEO Jim Meade
Service Updates
Revised rail timetables from Monday 8th June until further notice
Revised timetables for Iarnród Éireann which came into effect on Monday 30th March will see revisions as follows from Monday 8th June until further notice, as part of new schedules being introduced across public transport for Phase 2 of the Reopening Roadmap, approved by the National Transport Authority.
Customers should note:
DART services will resume to a full service (Monday to Friday), with revised and reduced schedules continuing on Saturday and Sunday
The revised and reduced schedule in operation on all Intercity and Commuter routes will continue, with some additional services as shown in table below, and other minor alterations
Services will not operate on the following routes until further notice:

Waterford to Limerick Junction
Limerick to Ballybrophy (via Nenagh)

Additionally, M3 Parkway to Clonsilla services will not operate on Saturdays and Sundays until further notice
Iarnród Éireann will provide train capacity wherever possible to ensure social distancing on board.
Please check times before travel for all routes using our journey planner.
Iarnród Éireann is monitoring passenger loadings on services across the network throughout the COVID-19 crisis, particularly as the roadmap for reopening Ireland progresses, and additional carriages and trains can be readily allocated to services where there is greater demand, addressing physical distancing issues.
On-board Assigned Seating Offering Suspended
In order to ensure social distancing at this time, we are operating an unallocated seating policy for the safety of all until further notice. Please disregard any reference to assigned seating in any booking records you may have.
Additional Services and Alterations from 8th June 2020 (Monday - Friday services)
Service
Departing
Arriving
Summary/ Serving
Useful Links

DART

Greystones/ Bray

Howth/ Malahide

Resumption of full DART service serving all stations
Journey Planner

DART

Howth/ Malahide

Bray/ Greystones

Resumption of full DART service serving all stations
Journey Planner
Commuter
05:20 Athlone
06:59 Dublin Heuston

Clara 05:34
Tullamore 05:44
Portarlington 06:02
Kildare 06:13
Newbridge 06:20
Sallins 06:29
Hazelhatch 06:36

Journey Planner
Commuter
06:30 Dundalk
08:06 Dublin Pearse

Drogheda 06:54
Laytown 07:01
Gormanston 07:07
Balbriggan 07:11
Skerries 07:17
Rusk & Lusk 07:24
Donabate 07:29
Malahide 07:35
Portmarnock 07:41
Clongriffin 07:44
Howth Junction & Donaghmede 07:47
Dublin Connolly 07:59
Tara Street 08:02

Intercity
15:30 Dublin Heuston
17:41 Limerick

Kildare 15:54
Portarlington 16:06
Portlaoise 16:18
Ballybrophy 16:35
Templemore 16:47
Thurles 16:57

Commuter
16:21 Dublin Pearse
17:24 Drogheda

Tara Street 15:45
Dublin Connolly 15:49
Malahide 16:08
Donabate 16:13
Rush and Lusk 16:17
Skerries 16:23
Balbriggan 16:28
Gormanston 16:33
Laytown 16:38

Commuter
17:10 Dublin Heuston
18:45 Athlone

Newbridge 17:31
Kildare 17:38
Monasterevin 17:45
Portarlington 17:54
Tullamore 18:12
Clara 18:22
No change to services currently operating Saturday and Sunday services until further notice.
CEO Jim Meade - A note to our customers
The COVID-19 pandemic is affecting every aspect of life here in Ireland, and internationally.
I know it as a time of great uncertainty and concern for you and your loved ones, as it is for all of us in Iarnród Éireann also.
To support the country's efforts in tackling COVID-19, our team of almost 4,000 people are focused on delivering your services and maintaining our network, and the necessary contingency measures for those services during current and future phases of the COVID-19 pandemic.
Throughout this, we are working with the National Transport Authority and other public transport operators, and will be guided at all times by the advice of our healthcare professionals, to whom we all owe such a debt.
Rail services will continue to operate subject to the alterations detailed above and will continue to do so unless public policy or the advice of health professionals changes, or unless our workforce is impacted to an extent which makes further service reduction unavoidable. By operating a revised and consistent schedule, we can:
Ensure that healthcare workers, and other workers for essential services can travel - including those members of our own workforce who are needed to keep trains running and the network operating - and those who must travel under the Reopening roadmap
Ensure those assisting isolated or vulnerable members of the community can travel
Facilitate social distancing by maximising services, and the capacity on those services
We are cleaning stations and trains in line with advice received by our health authorities, and we are focusing on areas like door buttons, grab handles, tables, ticket machines etc. with which customers and staff come into most regular contact.
We are making it easier for you to change or cancel your bookings if you decide not to travel or if your travel plans are altered: all Intercity journeys - including Low Fare and Semi-Flex - will, until further notice, be eligible for free cancellation or alteration without any penalty up to 90 minutes before departure. For journeys booked from today, this can be done at our website www.irishrail.ie - for Low Fare or Semi-Flex journeys booked earlier, please submit your refund application via Contact us on our website. Further detail on Refunds during this time can be found in our Refund Information section.
We also want to ask you for your support - you can help us to support the health authorities' goal of flattening the curve of the spread of COVID-19 by:
Considering if your journey is necessary - this helps to limit social interaction as our health authority experts have recommended, and facilitates greater social distancing on board. Remote working is in place in many workplaces, including our own administrative functions
Following the hygiene advice of the health authorities, particularly in relation to hand washing, and coughing or sneezing into a tissue or elbow. From Monday 18th May, customers are asked to wear face coverings on public transport.
Reducing cash handling between customers and staff: where possible, please pay using Leap Card, book online and collect at ticket vending machines, pay at ticket vending machines, or pay using payment cards
Maintaining social distancing with other customers and staff: numbers travelling have reduced dramatically which is enabling customers to maintain social distancing, but we will continue to monitor demand, and liaise with our health authorities should further measures be necessary to ensure social distancing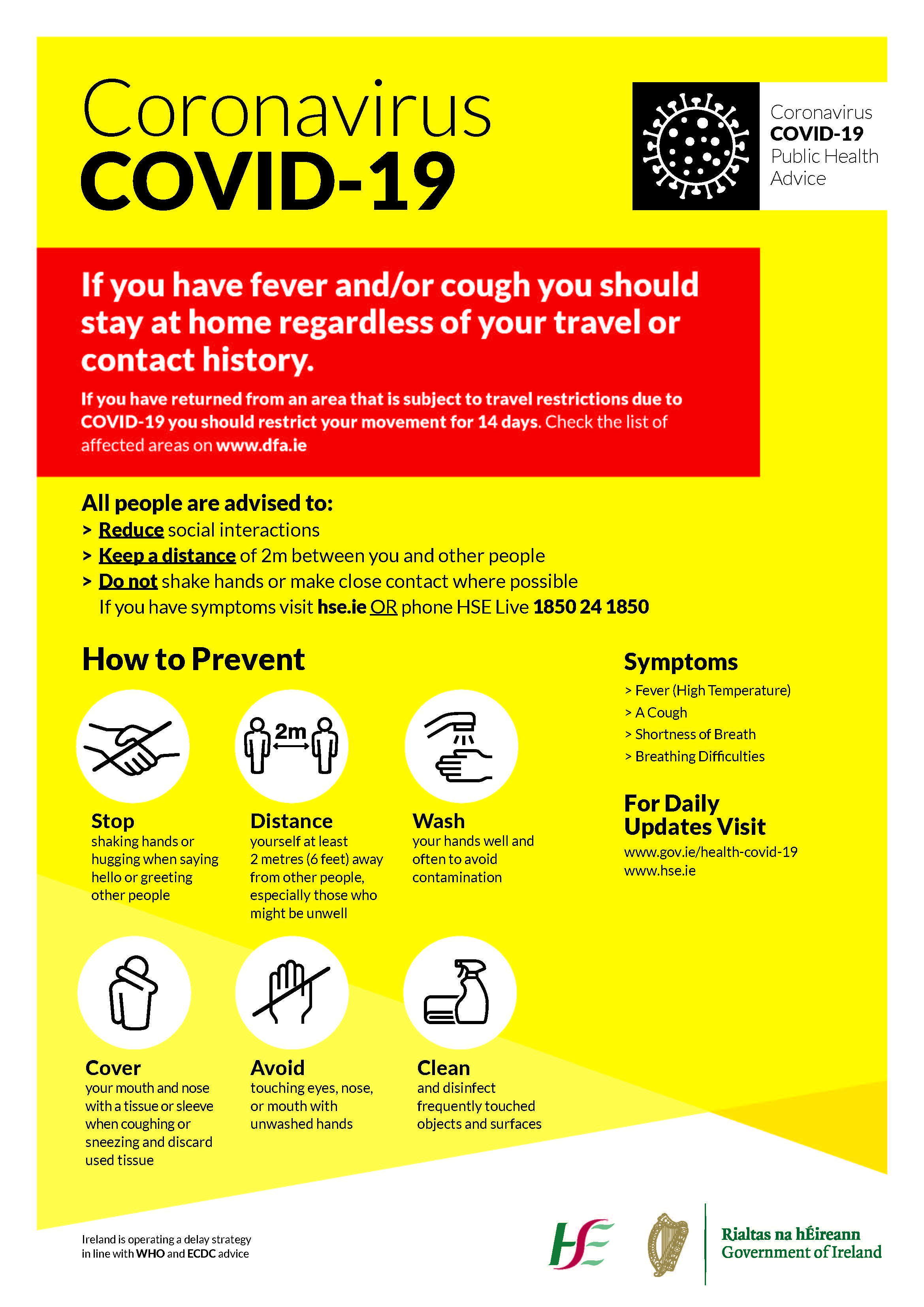 We thank you for your cooperation, and ask you to take care of your health and that of others in the weeks and months ahead.
Jim Meade,
Chief Executive,
Iarnród Éireann
Information from the HSE on COVID-19
Customers are advised that we are engaging with, and will continue to be guided by, the relevant health and other government agencies to inform decisions while the COVID-19 (Coronavirus) issue continues.
Rail services are continuing to operate to a revised schedule, and our cleaning of stations and trains is following advice given by the health authorities.
The health and safety of customers and employees is paramount and we are following all public health instructions that are issued by the HSE. We would ask that everyone follows the latest HSE advice and Department of Health guidance at all times.
Click here to open 'Coronavirus COVID-19 Public Health Advice' in a PDF version.
Refund Information
If you are concerned about planning travel at the moment, or your existing booking with us, here are the answers to the questions we are currently receiving from our customers. We will add to these if and when circumstances change.
If you are due to travel with us shortly, full services are continuing to operate across our network. However, please check our website before you are due to travel, or follow us on Twitter for live updates.
To help you with your plans, amendments can be made free of charge on all online tickets so that our customers can cancel planned travel. This will automatically apply to all new bookings made from 16th March 2020 until further notice. For bookings before 16th March see here.
Online Tickets already printed
For Refunds on tickets already printed, please send the ticket(s) into Customer Care Connolly Station, Amiens Street, Dublin 1.
Online Tickets not Printed
Tickets purchased from 16th March 2020 not printed
Customers who purchased a 'Low Fare', 'Semi Flexible Fare', 'Flexible Fare' or 'First Class' ticket(s) can cancel the booking themselves up to 90 minutes before the scheduled outward departure using one of the following methods:
Confirmation Email - clicking on the 'View, amend or cancel your booking' link within the booking confirmation email you received when you booked the ticket(s)
Or by login into your booking at 'My Booking'
Tickets purchased before 16th March 2020 not printed
'Flexible Fare' or 'First Class' ticket holders can cancel the booking up to 90 minutes before the scheduled outward departure using the cancellation and amendments links within the booking Confirmation Email or by login into your booking at 'My Booking'.
'Low Fare' and 'Semi Flexible Fare' ticket holders can request a refund via our Contact Us page. Please ensure you provide the Booking Number in the request.
Taxsaver Annual Tickets
The National Transport Authority has provided an outline as to how TaxSaver customers are to be accommodated.

Many holders of TaxSaver tickets have been unable to avail of public transport services as a result of restrictions being put in place in response to the Covid-19 crisis.

NTA along with the transport operators and other stakeholders are now designing a process to implement the scheme, but the basic principles have been agreed.

For commuters who are to continue employment with their current employer, under the NTA plan, the customer will be offered free travel for a number of months equivalent to the length of time they have been unable to use their ticket as a result of travel restrictions.

At the point when the customer returns to work, or on expiry of their ticket, they will make arrangements with their employer and they will be offered a choice as to whether the months-in-lieu are to take effect immediately, or whether they want to use them at a later date.

For holders of TaxSaver tickets who will not be continuing in their current employment, a refund will be offered to cover the remaining period of ticket validity, from the time restrictions were put in place.

Where the customer wishes to receive a refund rather than a replacement ticket, it is still open to them to make such a request via their employer under existing terms and conditions.

Together with the NTA and other operators, we will confirm details of the scheme as soon as possible. Please retain your ticket(s) pending confirmation of details of the scheme.
Onboard Catering
Iarnród Éireann regrets to inform customers that, due to commercial issues arising from COVID-19, our catering providers Rail Gourmet (Rep of Ireland Intercity services) and Corporate Catering Services Limited (Enterprise) are suspending operations on our services.
As a result, catering services will not be available on any of our services until further notice.
We apologise for the inconvenience caused, and wish our catering colleagues well and look forward to welcoming them back soon.
Print