Download your free copy of Go Rail
Check out our latest issue which includes interviews from Niamh Algar, Danny Boyle and much more.
Go Rail is a magazine specially produced for Iarnród Éireann customers. It is available on all the main inter-city routes – and is free to download below.
Brought to you by the award-winning team at Hot Press, Go Rail is a superbly designed, high quality publication which includes a wide-ranging editorial mix, including big interviews, competitions, event and travel guides, fashion, sport, reviews –and much more.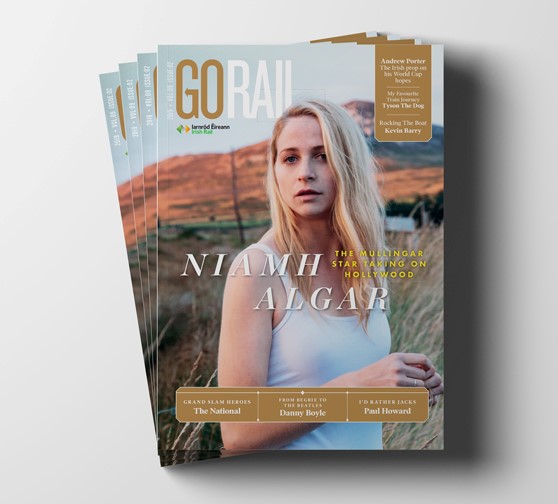 In this issue, Go Rail sits down for an in-depth chat with up-and-coming Irish actress, Niamh Algar. Having recently dazzled audiences and critics alike in Shane Meadows' harrowing, The Virtues, Niamh is now working with legendary sci-fi director Ridley Scott on his epic TV debut. Roe McDermott sits down with Niamh to hear about working with Meadows, playing a woman with OCD in Pure, and stories from the set of Scott's Raised By Wolves in Cape Town.
Elsewhere in the new Go Rail, Oscar-winning director Danny Boyle tells us about his new Beatles-centric movie Yesterday, getting input from Paul McCartney, meeting Ed Sheeran, and the importance of teachers. We also meet with Ross O'Carroll-Kelly creator Paul Howard to talk about his hugely successful new musical endeavor, Copper Face Jack's: The Musical, and about partying in the president's house.
Our jam-packed issue also has interviews with Irish Rugby superstar Andrew Porter, rock heroes The National, and one of Ireland's finest writers, Kevin Barry.
We also round up the latest food and drinks news, as well as all the latest releases in music, film, books and fashion.
Download your FREE copy here, or pick yours up on any Iarnród Éireann Irish Rail service.
Print