Train travel during COVID-19
03 January 2022
What we are doing to keep you safe, what you can do to assist us, and refund arrangements
Train Travel during COVID-19
Temporary service cancellations / alterations (updated Sunday 16th January, 16:00hrs)
Due to COVID-19 and close contact absences, the following service alterations are in place on these dates. Services below are cancelled unless otherwise stated. We apologise for the inconvenience caused:
Monday 17th January
06:12hrs Newbridge to Grand Canal Dock
08:17hrs, 10:32hrs, 12:35hrs, 17:30hrs, 17:52hrs, 19:32hrs & 21:35hrs Hazelhatch to Grand Canal Dock
15:08hrs Newbridge to Pearse
07:26hrs, 09:11hrs, 11:30hrs, 16:28hrs, 16:59hrs, 18:40hrs, 20:30hrs & 22:30hrs Grand Canal Dock to Hazelhatch
13:30hrs & 18:17hrs Grand Canal Dock to Newbridge
19:45hrs Heuston to Portlaoise
21:25hrs Portlaoise to Heuston (Please note 19:25hrs Cork to Heuston will additionally serve Portarlington at 21:25hrs and Kildare at 21:38hrs)
22.38hrs Limerick Jctn./Limerick is deferred to 22.45hrs
We are working to ensure that your journey is a safe one during COVID-19.
Customers are asked at all times to act in line with Government and health authorities' advice regarding travel by public transport. Customers are advised:
Under the Government plan for living with COVID-19, p

ublic transport is operating with 100% of on-board capacity available for use, and a

full schedule is operating across the network.

Until further notice, we recommend that those who travel by Intercity should book their travel in advance at this website, including holders of free travel passes or existing valid tickets. This will ensure the available capacity is effectively managed, providing rail customers with a safe and sanitary travelling environment.
What we are doing to help keep you safe
100 percent of on-board capacity is available for use.
We are thoroughly and regularly cleaning trains, and customer touch points on trains and in stations.
Our colleagues are wearing face coverings, and are provided with hand sanitiser and other PPE necessary for their roles.
Hand sanitiser units are in all 145 stations on our network. Up to 50 stations are equipped with dedicated vending machines, from which face coverings, personal hand sanitiser and gloves are available.
What you can do to help us
Planning travel
Please use our journey planner to see the latest up to date services information, including any alterations, and to book tickets.
If you are travelling on Intercity, we recommend that you book your travel in advance including holders of free travel passes or existing valid tickets, to ensure safe distancing within the available on-board capacity. If your plans change, please change your booking. To assist in this, consider booking return journeys as two single legs.
Please note that group booking reservations are not currently available due to COVID-19 restrictions.
Make sure you have a face covering with you before you leave to take your journey.
Bikes must be booked online prior to travel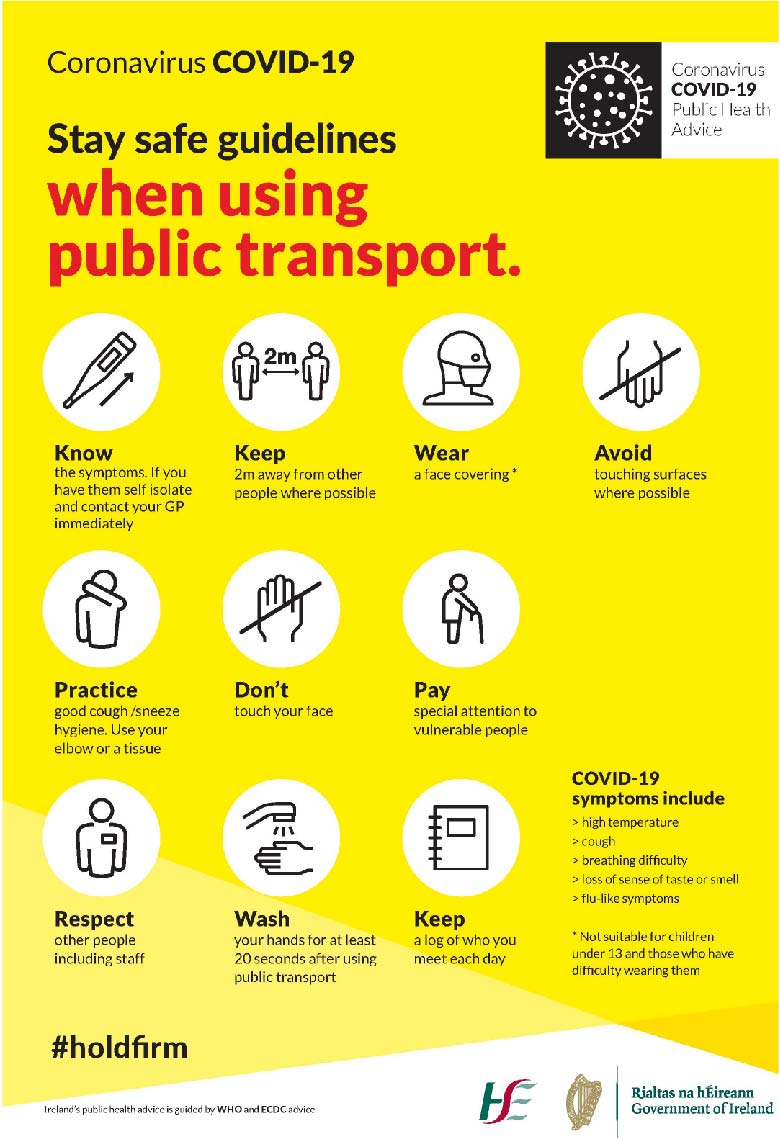 In the station
You must wear a face covering in stations, unless exempted under Government regulation.
If you are buying your ticket at the station, please avoid using cash if at all possible. Use ticket vending machines, Leap Card, or contactless payment.
Please observe hand hygiene, and use hand sanitiser stations where provided.
Please do not sit in marked seats in station waiting areas.
Please maintain social distancing from customers and employees, including on platforms and when boarding and alighting, and follow any advice or direction from employees.
On board the train
You must wear a face covering to travel, unless exempted under Government regulation.
Please respect others space, and minimise movement within the train.
Please follow any advice or direction from employees.
Please remove all items from your seat and table when leaving the train, and dispose of litter in bins provided.
Please note:
TaxSaver Annual Tickets
The National Transport Authority has confirmed that customers who have an annual TaxSaver ticket for Public Service Obligation (PSO) public transport services provided by Iarnród Éireann Dublin Bus, Bus Éireann, Luas and Go Ahead Ireland are to have their tickets extended for a period of six months.
This effectively gives customers back the portion of the ticket that they could not use as a result of the Government's Covid‐related travel restrictions, and acknowledges the changes in travel and work that have come about since.
The measure applies to all customers whose tickets were valid on April 1.
The customer is not required to fill in forms or supply any details. Any customer whose ticket expires, and who has not already requested a refund, will automatically be provided with a new ticket on their existing Leap card, which extends validity for six months from the date of expiry of their original ticket.
Collecting the new ticket is straightforward for the customer and is identical to the process already in place for TaxSaver tickets. Iarnród Éireann customers collect it automatically as they travel, as is the case for Luas customers. Bus customers can collect it using their Leap Top‐Up App or in a Leap Card retailer. Bus Éireann Point to Point ticket holders will receive a new ticket to include the six month extension.
Customers who have renewed their annual TaxSaver ticket since April 1 will also benefit from these measures.
Where the customer wishes to receive a refund rather than avail of the extension, it is still open to them to make such a request via their employer under existing terms and conditions. For more information, please visit the TaxSaver website.
Thank you for your cooperation
We thank you for cooperation during this challenging time for all of us. We are engaging with, and will continue to be guided by all health and government agencies to ensure the health and safety of customers and employees.
Please follow the latest HSE advice and Department of Health guidance at all times.
Print