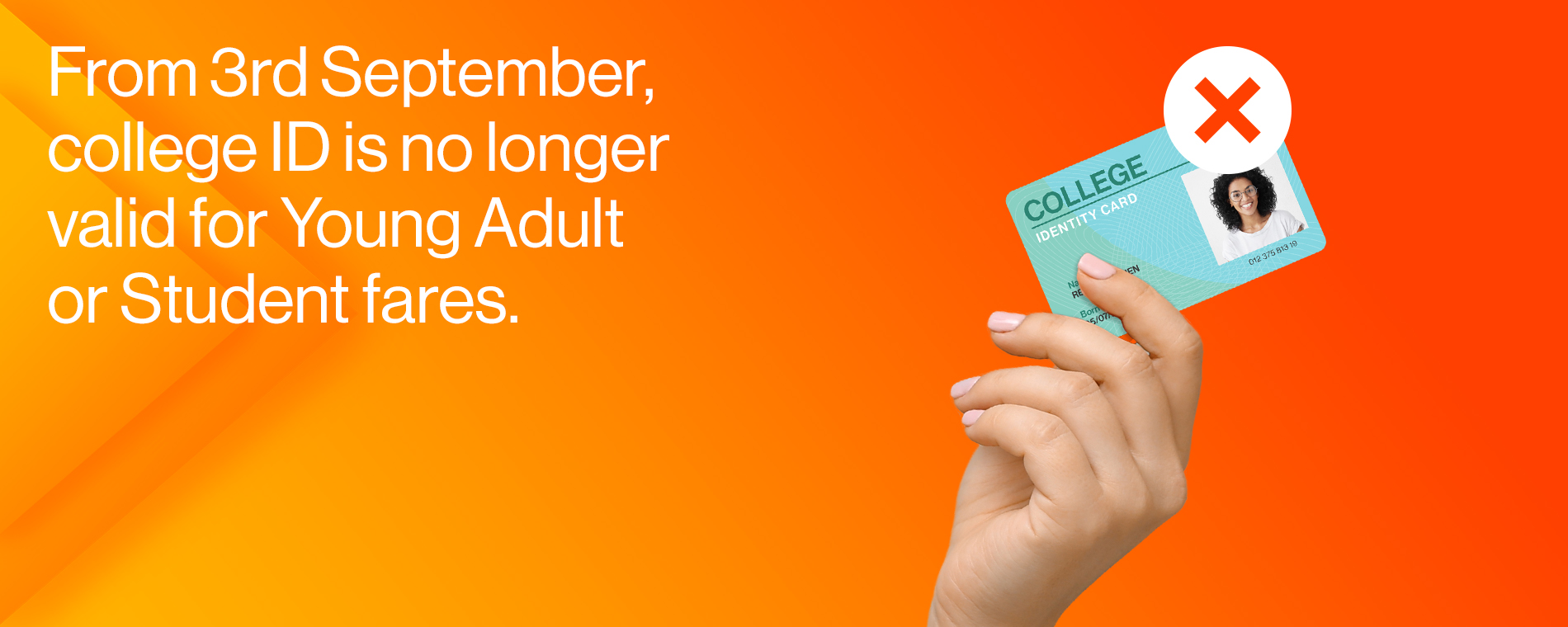 Changes to Student ID requirements from 3rd September 2023
Only the TFI Student Leap Card, TFI Young Adult (19-23) Leap Card or Translink yLink card will be valid for student / young adult fares
Buy now
Young Adult and Student Fares
Young adults aged 19 to 23 years can avail of our cheap student fares when they use their TFI Young Adult Leap Card as ID when travelling.

Our young adult / student Intercity fares offer a cheap, flexible, and sustainable way to travel. Young adults or students travelling on these tickets must produce the appropriate ID with their ticket.

Our online fares are the smart option and here's why;
Lowest cost fare option for students like Dublin to Galway €8.00
Flexibility - cancel or amend your booking online at no extra cost up to 70 minutes prior to travel
Book up to 90 days in advance
Free seat reservation
Free Wi-Fi to allow you work or play
ID Card Requirements
Customers travelling on a young adult / student Intercity ticket must have one of these forms of ID on their person whilst travelling:
Important: Changes to Student ID requirements from 3rd September 2023
To ensure a consistent approach across the Transport For Ireland network of public transport operators, from September 3rd 2023, only the TFI Student Leap Card or TFI Young Adult (19-23) Leap Card and Translink yLink card will be valid for student / young adult fares on all Iarnród Éireann Intercity, DART or commuter services.
Individual third level institution cards or ISIC cards will no longer be accepted from 3rd September.
Please ensure you have a valid card when purchasing student / young adult fares and can show it when inspected during your journey.
Travelling by DART & Commuter Rail in Dublin
A TFI Young Adults (19 – 23 years) Leap Card or a TFI Student Leap Card is the ideal way for getting around Dublin by DART or Commuter Rail. The TFI 90 Minute Fare means Young Adults (19 – 23 years) and Students can travel across LUAS, DART, most Commuter Rail services, Dublin Bus and Go-Ahead bus services in Dublin for just €1 for 90 minutes from your first touch on! Now that is a Life Hack!
Travelling in Cork
TFI Leap Card holders can touch on and use their TFI Leap Card to travel in the Cork Commuter area between Mallow and Cork and Cobh or Midleton. With TFI Young Adult Leap Card fares from 70c to €1.95 depending on your journey. You must touch off at the end of your journey for the correct fare to be applied.
Terms and Conditions for customers travelling on young adult / Student discounted tickets
Booking amendments or cancellations must be made online up to 60 minutes prior to departure.
Booking amendments or cancellations can only be made prior to printing tickets. No changes can be made once tickets have been printed
Booking a return ticket means that cancellations or amendments cannot be made to the return journey after the tickets have been printed at the outward station of travel. Always book a single ticket.
Customers travelling on a Young Adults (19 – 23 years) / Student Intercity fare must have the required ID as listed above under ID Requirements.
If a Young Adult / Student ticket is purchased at the station from a Ticket Machine the first six digits of the TFI Young Adult Leap Card number should be entered when prompted for your Student Travelcard number (not applicable to weekly or monthly tickets)
Failure to produce a valid ticket and the appropriate TFI Young Adult Leap Card when travelling will result in a fine of €100 together with the relevant unpaid fee.
Prices quoted are based on flexible fare tickets booked online more than 4 days from the time of travel, subject to availability. Prices may increase due to demand.
TFI Young Adult Leap Cards and TFI Student Leap Cards should only be used for the purpose of ID to avail of the 50 percent discount on InterCity adult fares.
TFI Leap Cards can not be used to tag on and pay for InterCity journeys.