Introducing the TFI 90 Minute Fare
Save up to 24 percent with a Leap Card
The TFI 90 Minute Fare gives TFI Leap Card customers the option to transfer between most DART, Commuter Rail, Dublin Bus, Luas and Go-Ahead Ireland services in the Dublin area at no additional cost for 90 minutes.

To avail of the TFI 90 Minute Fare, customers simply use travel credit on their TFI Leap Card. There will also be a short fare for single trips up to 3km.

The Short Fare applies to any one trip on eligible services of approximately 3km or less and is €1.30 on Adult and 65c on Young Adult/ Student TFI Leap Cards.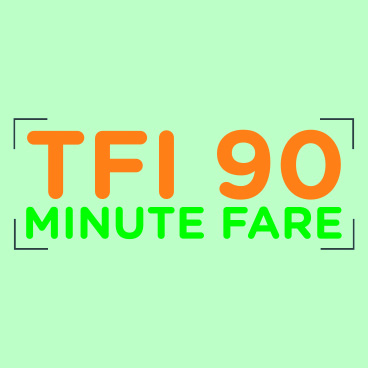 On the Iarnród Éireann network the boundary for this fare is from Dublin City Centre as far as Bray, Rush and Lusk, Hazelhatch and Celbridge, Maynooth and M3 Parkway.
The flat child Leap fare is only 80c, allowing children up to 18 years to travel anywhere on DART, Dublin city bus, Luas and Commuter Rail services with a free transfer between these modes within 90 minutes of the first touch on. For information is available at TFI Child Leap Card.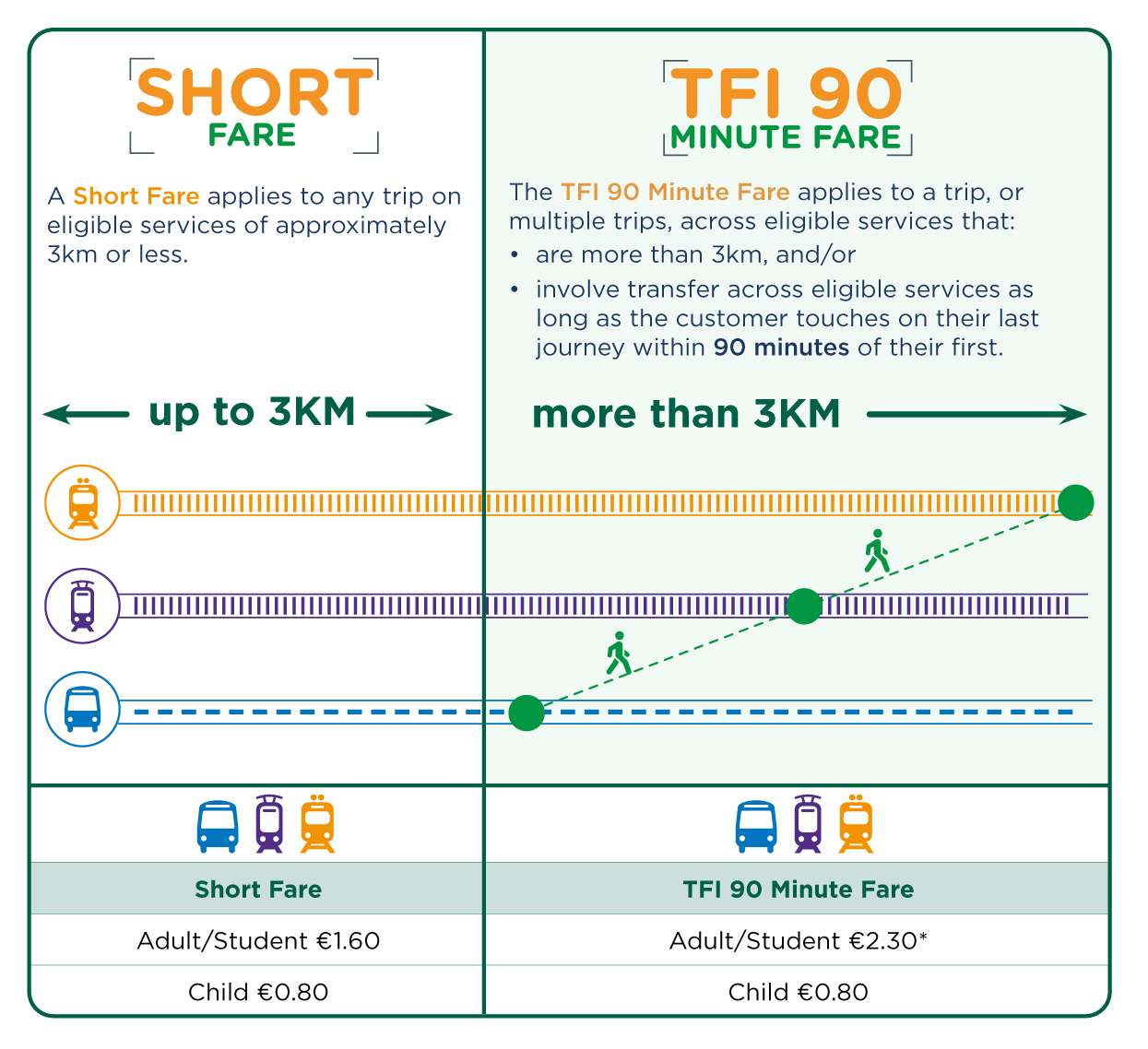 Leap Capping
All Leap caps in Dublin, both daily and weekly including multi-Operator caps, will remain at current levels.
You can use the Fares Calculator to work out your fare.
Some exclusions will apply
Irish Rail Zone 5 €3.00 adult
Examples of Zone 5 Journeys are:
Skerries / Dublin City Centre
Dublin Heuston / Sallins
Greystones / Grand Canal Dock
Drumcondra / Kilcock
Irish Rail Zone 6 €3.90 adult
Examples of Zone 6 Journeys are:
Balbriggan / Howth
Greystones / Pearse
Kilcock / Dublin
Bus Services
Xpresso: €3.00 adult, €1.26 child
Nitelink: €4.50
Cork Commuter
Leap Cards can also be used on rail services within the Cork Commuter area (Cork - Cobh - Midleton) for more info please see Cork Commuter Rail Fares.
Print