Happy Days - Family fun by Rail!
Take the train for the best family travel experience
Treat your children to childhood memories about travel, the excitement of seeing new things, going to new places and spending quality time with you. The whole family arrives refreshed and relaxed to your destination ready to carry on your adventure. So go on, treat your family to an experience they won't get in a car.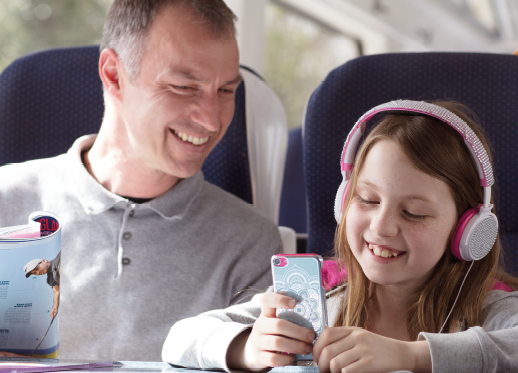 Who are family train tickets for?
All family tickets are valid for a return journey for 1 or 2 adults and up to 4 children between 5 and 15yrs old. Children under 5yrs travel free on Intercity services.
Where can I buy family tickets for the train?
Tickets can be purchased online, at Tickets Offices or at the Ticket Vending Machines in stations
| Dublin to/from | Day Retun | Open Return* |
| --- | --- | --- |
| Belfast | €72.80 | €112 |
| Cork | €80 | €112 |
| Galway | €59 | €106 |
| Kerry | €84 | €114 |
| Limerick | €66 | €106 |
| Rosslare | €54 | €88 |
| Sligo | €60 | €110 |
| Waterford | €55.50 | €98 |
| Westport | €63 | €112 |
*One adult and one child must travel to avail of these fares.
*Open return fare is valid for one return trip to be used within 30 days of the outward journey.
DART and Dublin Family Travel
The DART is a great way to get around the beautiful Dublin bay. The €16 Family 1 Day Rail only ticket is available from station ticket machines and ticket offices. It allows a family of 2 adults and up to 4 children to unlimited travel on DART and commuter rail in the short hop zone in and around Dublin for that day.
For more information on travelling with your family Tweet @irishrail
For family fares contact our Customer Information Centre (Monday - Friday 09:00hrs - 17:00hrs) on (01) 83 66 222 or email info@irishrail.ie and our staff will be happy to assist you in choosing the best fare for you and your family.
Leap Card
Customers can save up to 18 percent on Dart and short hop zone rail journeys in the Dublin area when using Leap card instead of single or return tickets. Check out current Leap Card fares and see what you can save.
Save time and money (up to 24 percent) when you use a Leap Card to pay.
Terms and Conditions
Restrictions might apply to ticket sales on specific days or routes
1 adult and 1 child must travel on Family Rail Tickets
Children must be aged between 5 – 18 yrs on Intercity Tickets
Family Day Return Tickets are valid for travel on the date shown on the ticket only
The outward portion of a Family Open Return Ticket must be used on the date shown on the ticket only and the return portion can be used up to 30 days from this date
Please note Family Tickets do not include seat reservation, to reserve your seating contact our Customer Information Team on (01) 83 66 222
There are so many reasons to take the train, the relaxed travelling, the speedy travel times, the onboard catering and free Wi-Fi. Now with our new online fare options you can get a really low fare or a flexible fare with free seat reservation included.
View downloadable and printable timetables for all of our services.