Accessibility Policy for Intercity and All Other Routes
Iarnród Éireann endeavours to assist all customers with disabilities to travel on our rail services.
Guide for Rail Passengers with Disabilities 2020 (PDF 397KB)

This section outlines our accessibilty policy for Intercity and commuter services as listed below:
Dublin Portlaoise Commuter services
Dublin Longford Commuter services
Dublin Connolly to Gorey Commuter services
Mallow – Cork – Cobh – Midleton Commuter services
Quick Navigation Links
Planning Your Journey and Assitance for Customers with a Disability
When you have decided to travel by train, where possible, please let us know in advance of your travel requirements so that arrangements can be made for you to have as comfortable a journey as possible. If it is not possible to contact us, we will do our utmost to provide assistance.
The more information we have about the assistance you require, the better we will be able to assist you.
When contacting us, please give the following details:
Date of travel
Time of travel
Departure station
Arrival station (including any intermediate stations where you have to change trains)
Nature of disability
Assistance required
Means of transport to and from departure and arrival stations eg taxi, private car and whether someone is meeting you at your destination
Whether you will be travelling alone or with a companion
Whether assistance will be required at both the departure and arrival stations (including changeover stations if applicable) and if so how staff will be able to identify you
Any other details to assist railway staff or which you wish to clarify
If you need to cancel a journey for which special arrangements have been made, please let us know so that staff can be made available to assist others.
JAM Card
The JAM Card was created by NOW Group, a social enterprise that supports people with learning difficulties and autism into jobs with a future and their service users told them that they would like a way to relay to people that they need a little extra time or patience.
Find out more about NOW Group at nowgroup.org and JAM Card at jamcard.org.
For those with a learning difficulty, autism, Asperger's or any condition where there can be a communication barrier, the JAM Card allows users to relay to others that they may need a little extra time in a simple, effective non-verbal manner. The JAM Card is useful when on public transport, in a retail or any other customer facing environment.
There are 3 message options to choose from:
Please be patient, I have autism or Asperger's
Please be patient, I have a learning disability or difficulty
Please be patient, I have a condition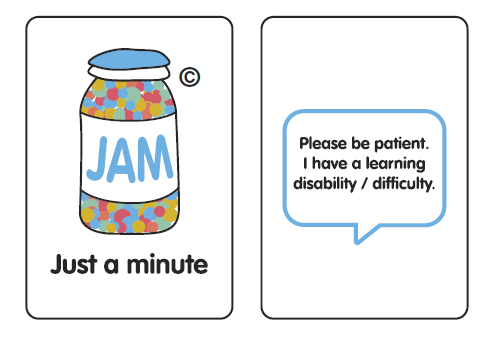 Where can I get one?
You can pick up an JAM Card at one of the following stations;
Connolly Station, Dublin
Pearse Station, Dublin
Heuston Station, Dublin
Kent Station, Cork
Ceannt Station, Galway
Colbert Station, Limerick
Plunkett Station, Waterford
MacDiarmada Station, Sligo
You can also request one directly from NOW Group by visiting the JAM Card website and filling out the request form.
If you prefer not to use a physical card, there is a JAM Card app available for Android and iOS. The app allows you to choose your message option, leave reviews and find other JAM friendly businesses.
Disabled Car Parking at Iarnród Éireann Stations
All our station car parks have designated car parking spaces for European Parking Card holders. They are provided at a convenient location on a concrete or tarmac surface, with dropped kerbs and non-slip pavements where appropriate. To see more information on station accessibility see our dedicated station pages.
Wheelchairs and Powered Scooters On-Board Trains
There are a limited number of wheelchair accessible spaces on each train, it is important therefore that you book your space in advance.
We can accommodate wheelchair or powered scooters up to 700mm in width and 1200 mm long (including footplates) height 1435mm including occupant a maximum weight of 300kg including occupant and a turning radius of 900mm.
For safety reasons if your wheelchair or mobility scooter is larger that the permitted dimensions, we cannot accept it as the wheelchair or scooter may not be able to turn corners on board the train.
As scooters come in a wide variety of shapes and sizes, many have problems on trains, such as being unable to manoeuvre safely inside a carriage. These problems mean that trains cannot carry some scooters, if you are a scooter user who wants to travel by rail, you should contact the station to ensure your scooter can be accommodated.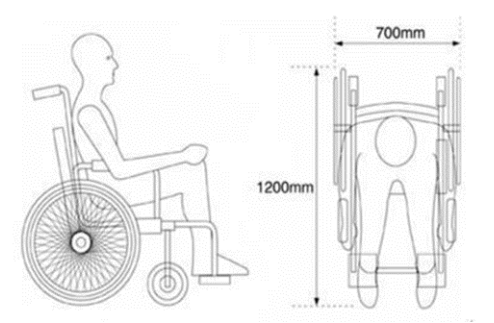 Accessibility Ramps for Train Access
Our staff will use ramps to help you on or off our trains if required. 24 hours advance notice needs to be given to ensure staff can be deployed to assist you on or off your service.
At some stations there is a gap between the platform and the carriages which may create difficulty for people who are visually impaired or have mobility impairments and assistance may be required when boarding or alighting from the train.
Priority Seating On-board Trains
Iarnród Éireann undertakes to make every reasonable effort to ensure that disabled passengers can obtain a seat on a train. Seats may be booked online at www.irishrail.ie. Usually, this will be a designated Priority Seat.
Assistance Dogs On-board Trains
Guide or Assistance dogs are welcome on all Iarnród Éireann services and in train stations.
Riding the Train
The Riding the Train social story is available to assist and improve the experience for customers with sensory needs or communication issues such as autism, ADHD, cognitive impairments etc while travelling on our services.
Complaints under Disability Act
If you wish to register a complaint under the 2005 Disability Act please contact access@irishrail.ie.
Contact Us