Kilbarrack shares Change message in new station artwork
27 January 2022
Twenty young people from area work with youth service Sphere 17 Kilbarrack to transform station walls
A major new artwork in Kilbarrack, created by a group of twenty young people from the area, under the guidance of artists, has been unveiled at the North Dublin community's DART station.
The creative and educational collaboration between Iarnród Éireann, public art consultancy Fresco and their network of artists and youth service Sphere 17 Kilbarrack promotes a message of Change to commuters, and brings new colours and creative art to the station walls of Kilbarrack DART Station.
Sphere 17 and Iarnród Eireann, with the assistance of artists ONER and Arububu held workshops with young people from the local area to discuss their ideas and thoughts.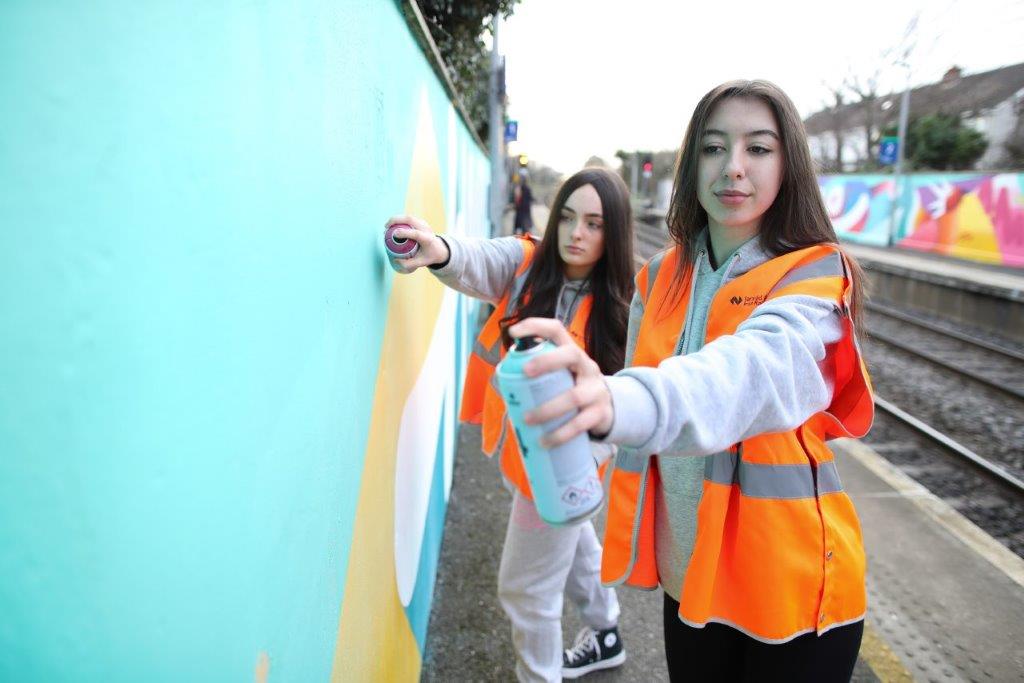 A total of twenty young people, ranging in age from 13 years to 18 years have worked on the project from first discussions, concept ideas and planning, to on creation and site works.
Concept
The walls in the station promote messages through street art, in a creative and abstract way to initiate thinking towards positive change as people pass through on their daily commute, and also for those who live and work in the area.
The works represent the thoughts of the young people involved in its creation:
Changing the point of view regarding how people from Kilbarrack see themselves, and see Kilbarrack.
Changing the pattern in which they label their own community negatively.
Changing / evolving their outlook on themselves, from negative to positive, and employing a more positive outlook on other people from Kilbarrack, and striving to treat everyone else in life this way.
Changing ways of improving the public's visual environment
Changing bad habits in order to improve mental, emotional and physical health.
Changing the world around us always begins with the change within us first.
Lee Cummins, Youth Leader, Sphere 17 KIlbarrack said:
"The young people of Kilbarrack felt it was really important to portray their area in a lighter, friendlier way and felt that following on from the last couple of years, a message of support and kindness was essential for them. Some of the young people involved have been quoted to say that they enjoyed the project and learning how to spray paint with the artists, they learned the importance of art and the street art processes and that overall, they had a positive experience. They also felt that having the opportunity to work out in public with others was a highlight and they're grateful to be a part of something so good for their community."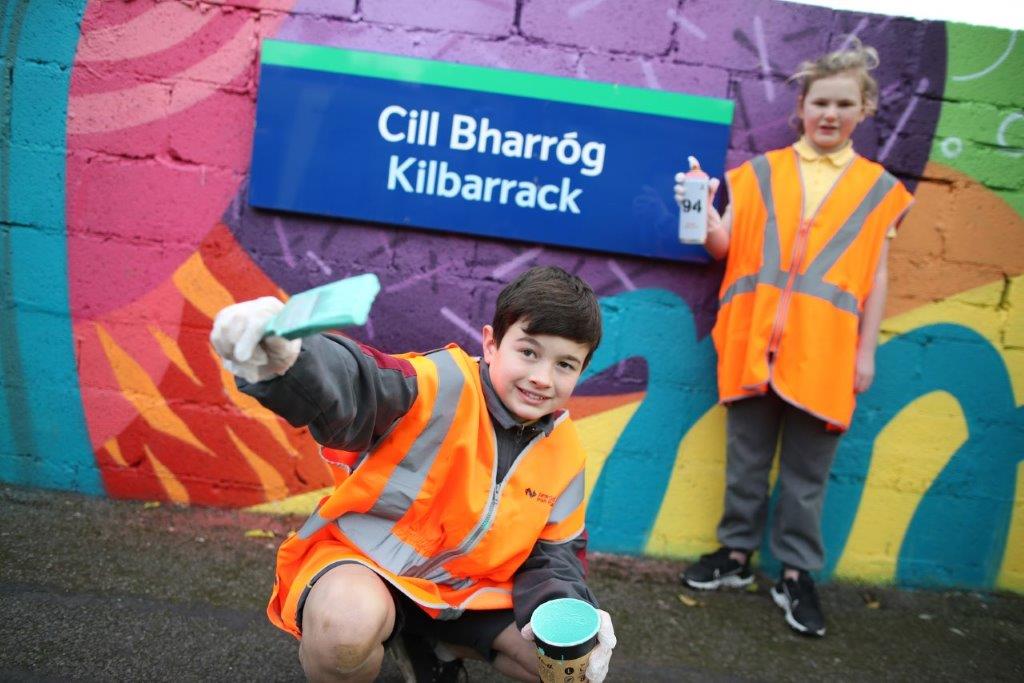 Joy Murray, Buildings and Facilities Manager for Iarnród Éireann, said "Kilbarrack is an important station on our DART network, and the DART service is an important part of the Kilbarrack community. It has been a pleasure to see the ideas and thoughts of the young people of the area develop into a new artwork which we hope will inspire all of us to follow that message of positive change. We are grateful to Sphere 17 and the many young people who participated, and to Subset/Fresco Consulting for their creative guidance."
Hannah Creevey, Fresco Consulting said: "Thank you to Iarnród Éireann for this opportunity and to the young people of Sphere 17 for trusting us and working with us to make your local train station a wonderful place to be!' Artist Arubub and ONER who led the project creatively said " From our initial talk with Fresco, followed by meeting with Sphere 17 and Iarnród Éireann until the completion of this project, we're delighted to be part of their vision, community and positivity through the eye of street art. One of the best things was experiencing the excitement and engagement of the youth group in order to express their positive message to every in the community and beyond"
Previous Article
13 December 2021
Next Article
24 February 2022
Print