The Royal Canal Greenway
So, what are you wating for? Get Exploring!!
The Royal Canal Greenway is the longest greenway in Ireland and streches from Maynooth to Longford. Offically opened in March 2021 the Greenway continues to grow in popularity and recently was awarded the title of 'Cycle Route of the Year 2022' at the prestigious Dutch walking and cycling fair Fiets en Wandelbeurs.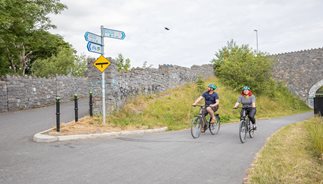 What is the Royal Canal Greenway?
The royal canal Greenway is a long-distance off-road walking and cycling trail that stretches over 130KM, connecting the town of Maynooth with the harbour village of Cloondara and historic town of Longford.
Why Should I visit the Royal Canal Greenway?
The Royal Canal Greenway captures 200 years of history as it flows through rolling fields and stunning waterside villages. With its beauty, wonder and rich heritage it is not something to be missed and is a perfect day out to enjoy a bike ride or to simply enjoy a stroll with loved ones.
Where do I start?
Start your thrilling adventure at the vibrant town of Maynooth which can be easily accessed by rail, with frequent trains running all day from Connolly Station and no need to book bikes ((Commuter Trains only). Once you have arrived at this beautiful city you may want to enjoy a 6km stroll/Cycle down to pretty Kilcock or if you are in the mood for a longer adventure you may choose to continue for a further 14km to discover the fascinating industrial heritage on show in the stunning town of Enfield with old railway signals and towers that are still in use today.
Can I hire Bikes?
Yes, you can arrange bike hire through the following link- https://royalcanalbikehire.ie/
Fares information (Connolly – Maynooth)
Leap Fare - €2.30
What other locations does the route go through?
The route continues through Mullingar, Cloondara and Longford (Please remember these services require bike spaces to be booked in advance), running right alongside or close to the railway line for the full section between Maynooth and Mullingar.