Blog Archive
16th March 2018
Go Beyond the Pale for St. Patrick's Day 2018
Dublin has a spectacular St. Patrick's Day festival the nation's capital is home to events for all ages and with a huge crowd the atmosphere is sure to be amazing! Celebrating our nation's patron saint in our capital city is an amazing experience. But it isn't the only place in Ireland offering an unforgettable St. Patrick's Day celebration. Maybe you've already been to Dublin for Paddy's Day or maybe it is too much of a good thing for your liking. Why not let Iarnród Éireann take you to one of these other St. Patrick's Day festivals in Ireland?

Cork: With a theme of Democracy For All - 100 Years of the Vote for Women, Cork has all the bases covered with one of the country's largest celebrations. The parade kicks off at 13:00hrs on the 17th. Expect marching bands, quirky performers, fantastic music and a lot of really happy families. Bonus, the weather is often slightly better in Cork than in more northern or western areas
Galway: The city that gave us Macnas is not going to disappoint on Paddy's Day. Galway's parade will be afire with dazzling pageantry and absolute magic. Not only will Galway host an amazing parade but also a free concert in Eyre Square with live music and amusements for all ages. Why not take part in the family fun charity cycle the next day too! Make a weekend of the festivities with the whole family
Tullamore: Famous for more than whiskey, Tullamore has enough to keep a family entertained for the whole long weekend. The parade starts at 11:30hrs but if you're early don't worry you'll catch the Tullamore Ceoltas group and the Durrow Set Dancers providing a great show before the parade kicks off. It's all about Irish food, culture and music in this vibrant midlands town
Limerick: If marching bands are the highlight of St. Patrick's Day for you, Limerick is the place to be. Don't miss the Circus 250 theme which is sure to be a spectacle on the day. And there is plenty to see in the area on the Saturday. Walk the setting of Angela's Ashes, cruise along the River Shannon or visit King John's Castle
Dubliners interested in exploring further afield can do it without the hassle of driving there or worrying about parking with Iarnród Éireann. Get out beyond the Pale for a fantastic staycation break this Paddy's Day.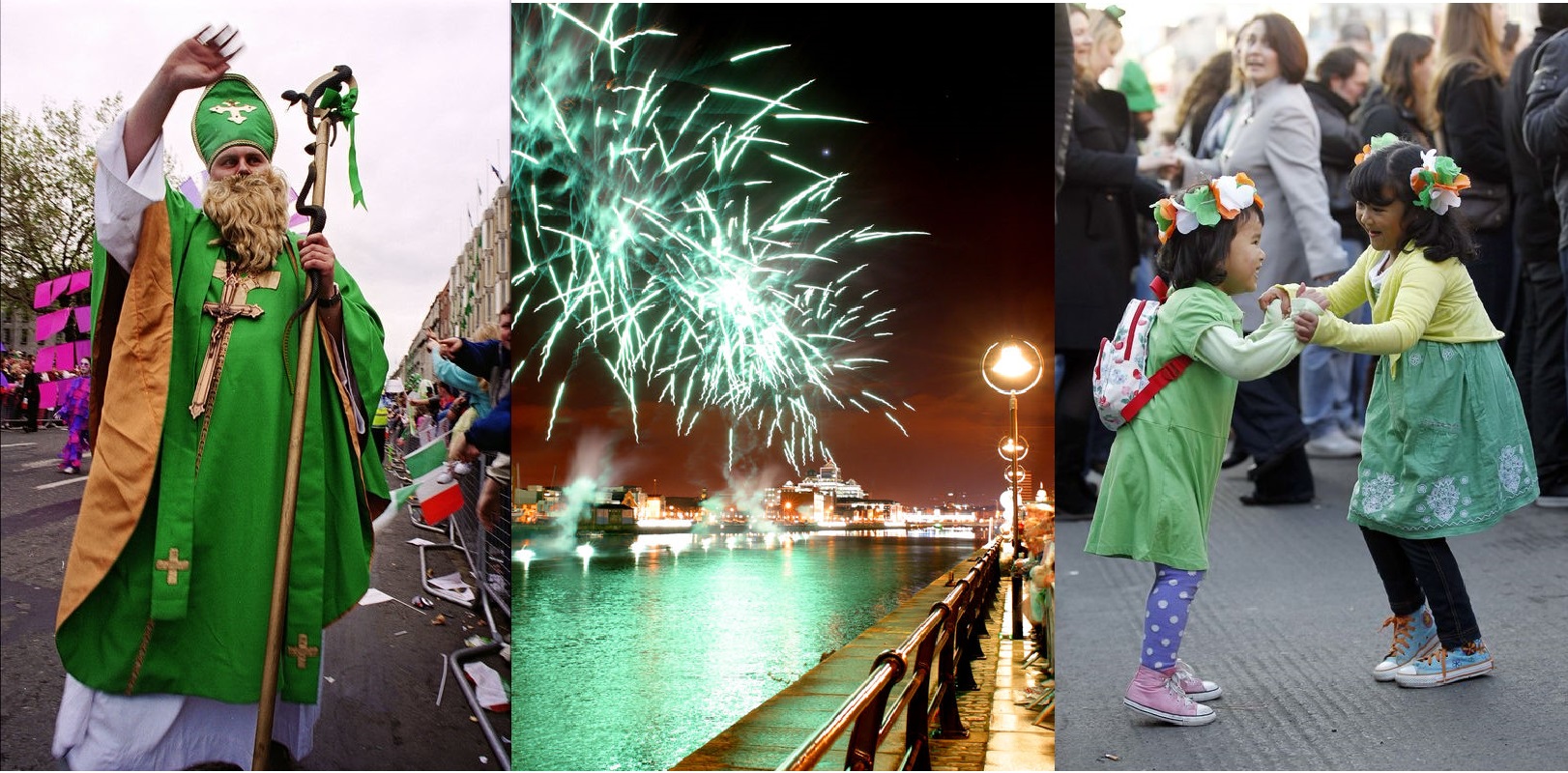 Want to Keep It Really Real This Paddy's Day?
While larger cities and towns put on dazzling festivals with events to cater to every taste, sometimes less is more. If you are looking for a more authentic traditional day, try a provincial town such as Mullingar, Drogheda, Portlaoise, Carlow or Kilkenny. Tractors, fire engines and GAA groups on parade are the heart and soul of rural Ireland. Add some face painting, a ceili and some live music, and you've got a refreshing break from the high gloss of the cities.
Visitors from overseas searching for a taste of the real Ireland could try spending St. Patrick's Day in a town where or near where they have family roots. What better time to learn about where your people are from than the day they are celebrating their heritage? In towns and villages across Ireland, you'll find an especially warm failte waiting for you on Paddy's Day whether you are visiting from Dublin, Perth or Boston. Slow down and spend a few days off the beaten tourist track getting to know your roots.
Whether you are visiting Ireland or just want to experience Paddy's Day in a different part of the country from where you live, you are spoiled for choice. You can go for a dazzling spectacle in Dublin or another city, or you can embrace the more relaxed festivities down the country. Whichever you chose, you don't have to worry about holiday traffic when you go with Iarnród Éireann. The holiday starts as soon as you board your train.
Great journeys start by train, enjoy the experience from the moment you get on board. You can sit back and relax in comfort, read a book, surf the web with our free Wi-Fi, enjoy some downtime, have a bite to eat or catch up with friends. So whether you're travelling on business or for pleasure the train has it all with our fantastic web fares.
Leave a comment (your email address will not be published)