Iarnród Éireann Irish Rail Freight
Whether by rail or road, Iarnród Éireann Freight will get you there.
Iarnród Éireann Freight is a separate division of Iarnród Éireann. We provide a comprehensive range of rail freight services for the Bulk Freight, Intermodal and Freight Forwarding markets.
Rail transport offers key advantages such as moving full trainloads of ISO tanks, containers or bulk freight such mineral ores or timber product at a very competitive price. It is particularly suited for long distance transport. The lines between Ballina and Dublin port and Waterford port are cleared to carry 9 foot 6 inch high cube containers on standard floor wagon. Rail service operates Monday to Saturday which offers flexibility and reliable direct connection with maritime traffic. Rail transport is also ideal for moving hazardous goods since it reduces risk of accidents.
Rail Freight Strategy 2040
Iarnród Éireann Irish Rail Freight is pleased to present our Rail Freight 2040 Strategy as an ambitious vision positioning rail at the centre of Ireland's freight transport system. It recognises the sustainable benefits that rail provides and invites all stakeholders to work collaboratively on its' implementation over the coming years as a contribution towards achieving Ireland's climate objectives and wider strategic national outcomes.
Read Iarnród Éireann Rail Freight 2040 Strategy in full here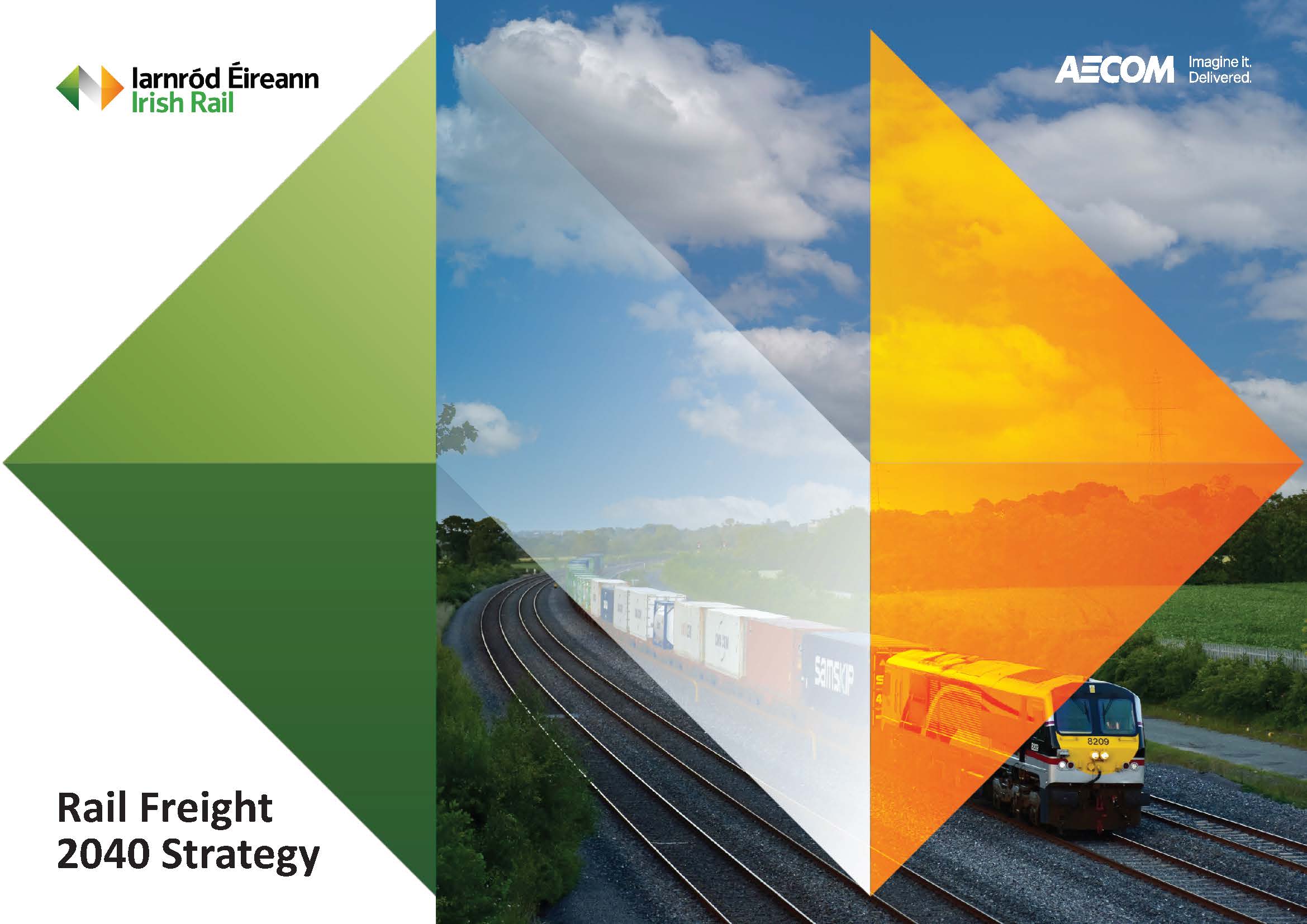 Iarnród Éireann Irish Rail Freight 2040 aims to achieve:
A five-fold increase in the number of rail freight services, to include over 100 new weekly services across the rail network
A resulting reduction of 25,000 tonnes of CO2 emissions annually, with rail freight emissions per unit as little as 16 percent of HGV emissions
Avoiding the requirement for 140,000 HGV journeys on our roads annually
Rail Freight 2040 was prepared in consultation with stakeholders, and operations and case studies across Europe were examined. The strategy aligns with Project Ireland 2040, the Climate Action Plan, as well as the European Union's Sustainable and Smart Mobility Strategy and EU Green Deal, and supports the national decarbonisation goal of a 51 percent reduction in emissions by 2030.
The Strategy outlines twenty-five initiatives and a cumulative investment of approximately €500 million, within five strategic pillars, which are:
Enhancing connections with sea ports: central to Rail Freight 2040 are initiatives to have all Tier 1 Ports connected to the rail network. This degree of connectivity will establish an expansive rail freight network which provides the options and resilience required by modern supply chains and potential freight customers
Developing a network of intermodal terminals: Additional infrastructure is required to prove a network of facilities and a freight service offering as a viable alternative to road for existing and new customers. An expansive network of inland rail freight terminals is proposed, establishing rail freight in each of the regions.
Addressing rolling stock requirements: Investment in new wagon fleets will ensure services can benefit from operational efficiencies. Modern intermodal and bulk wagons can reduce impacts on track infrastructure, and facilitate higher speeds and longer trains. In addition, bi-mode locomotives would allow for further decarbonisation of freight flows.
Network developments: the connection of industrial sites directly to the rail network; development of additional passing loops and double-tracking on current single-track sections of the network; and dedicated freight paths to provide competitive journey times and reliability will be developed.
Policy initiatives: Working with national, regional and European stakeholders, Iarnród Éireann will work to ensure a policy framework is in place to support a more favourable environment for rail freight, in line with European norms.
Rail Freight Strategy 2040 Video
If you wish to talk to us about your logistics, export or import transport requirements, please contact us: