Railway People: Andrew Roche, Former Business Development Manager, Cork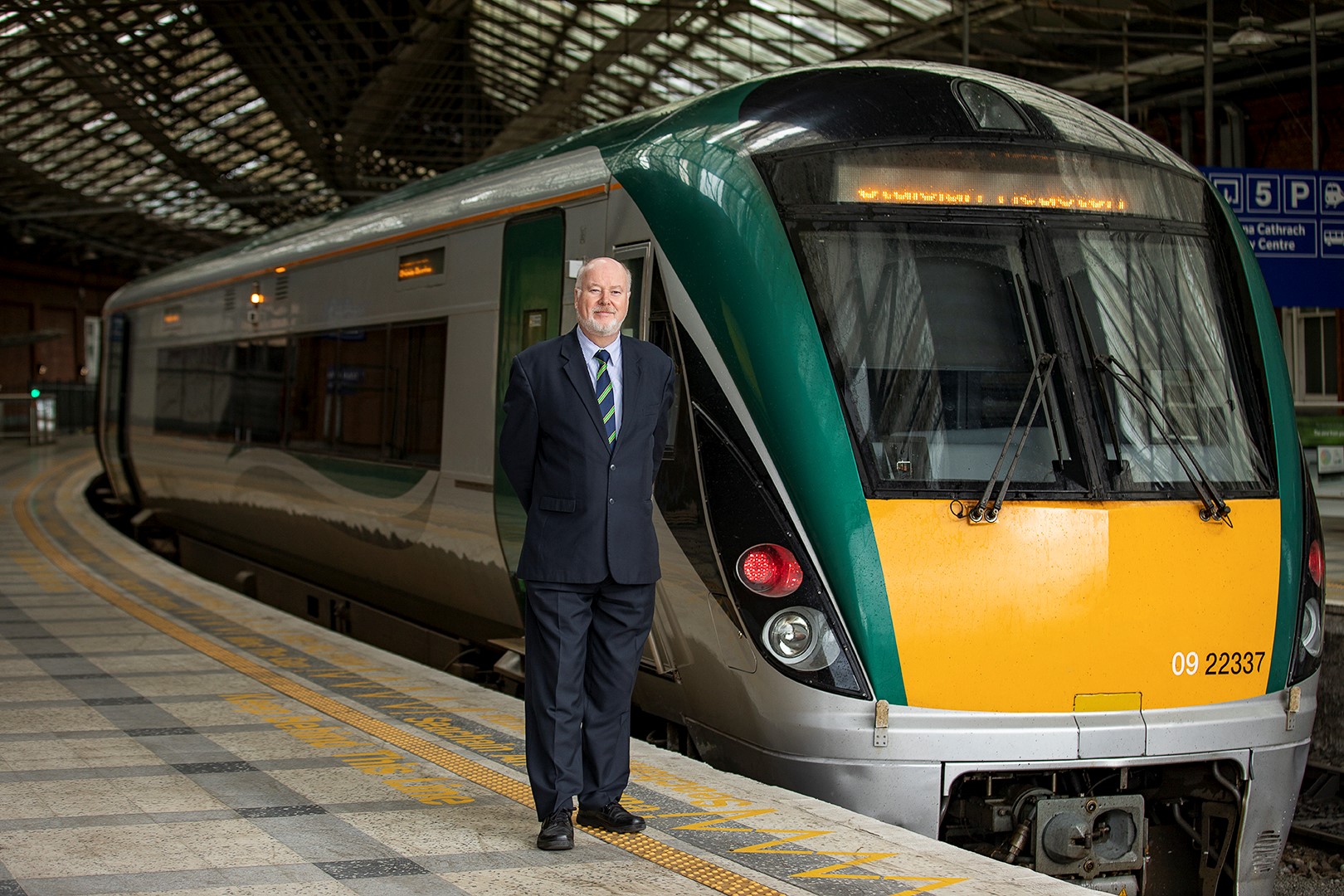 Andrew Roche, Former Business Development Manager, Cork retired the end of April with nearly 47 years dedicated service to CIÉ and Iarnród Éireann. One of the most well known people in Cork business, Andrew's career has taken him from Cork, New York, London to Dublin and back home again to Cork.
Andrew started his career in 1971 with Irish Ferryways in Dublin which was a wholly owned subsidiary / Freight Division of CIÉ back in those days. Irish Ferryways was the first company in Ireland to operate a "lift-on lift-off" container freight service on the Irish Sea. They operated a very successful road freight, Import, Export & Ferry business in Ireland, working with Containerway and Roadferry in the UK, which included a custom clearance services for its customers on both sides of the Irish Sea.
After spending 5 years in this role, he would start his life-long passion of providing customer service when he joined CIÉ Tours International (1976). This required him to move to London to work for the then Manager Britain for CIÉ Tours.
His first task was to visit Travel Agents, Tour Operators and others all over London. He was given an A to Z of London and for about three months he called on every Travel Agent/Travel Department who had or had potential business to Ireland, using the London Underground. He got to know London very quickly, as well as getting to know his customers personally.
While CIÉ Tours was very well known and respected by UK hotels - he recalls - it wasn't all plain sailing because of the troubles in Northern Ireland and the bombing campaign in the UK in the 70's. "Sometimes, it was not a good time to be Irish in Britain as things were unstable and the troubles were ongoing". However, he had a job to do and he wasn't going to let this deter him from building relationships with customers throughout London and throughout Britain for the next 5 years. Andrew enjoyed his role in the UK and 1977 was the start of the return of UK visitors to Ireland and a very successful year for them.
In the 1980s, he received an offer to transfer with CIÉ Tours to the United States, based in New York. The role was to assisting in marketing Tours to Ireland and Britain from the states and Canada. After six months in New York, and six months back in London, he eventually moved permanently to New York in 1982.
Business was going extremely for Andrew well up until the 1986 Chernobyl Disaster. CIÉ Tours lost 46% of their business almost overnight as customers did not want to leave the US and travel to Europe. CIÉ Tours had to downsize their operation which included job losses. Andrew states he was lucky not be affected but it did result in a move back to Ireland to the Dublin Office.
In 1989, Andrew applied for a Business Development position in Iarnród Éireann, covering, Dublin - north of the river Liffey and North Leinster, including the North of Ireland, building an excellent relationship with colleagues in Northern Ireland Railways despite recurring security alerts affecting the service.
Another career move came in 1993, when he was asked if he would consider moving to Cork for three months to get involved with the rail plan for the Eurovision Song Contest being held in the Green Glens Arena, Millstreet. "In Your Eyes" proved to be the winning song for Niamh Kavanagh but in his eyes, this was his winning moment as he secured a permanent move back to his home by the Lee.
Andrew would spend the next 25 years promoting and selling rail travel and its benefits as far and wide as possible. Along with building his own reputation as someone who makes it easy to do business with, and has built the reputation of Iarnród Éireann which he did right up to his retirement day.
He has been instrumental in building the successful increase in tourism business we see from tour operators from America and Europe as well as generating sales from cruise ships which visit Cobh and Cork Harbour every year. He has an enormous sense of pride in his role with the company and has never stopped in his quest to advance the national rail service.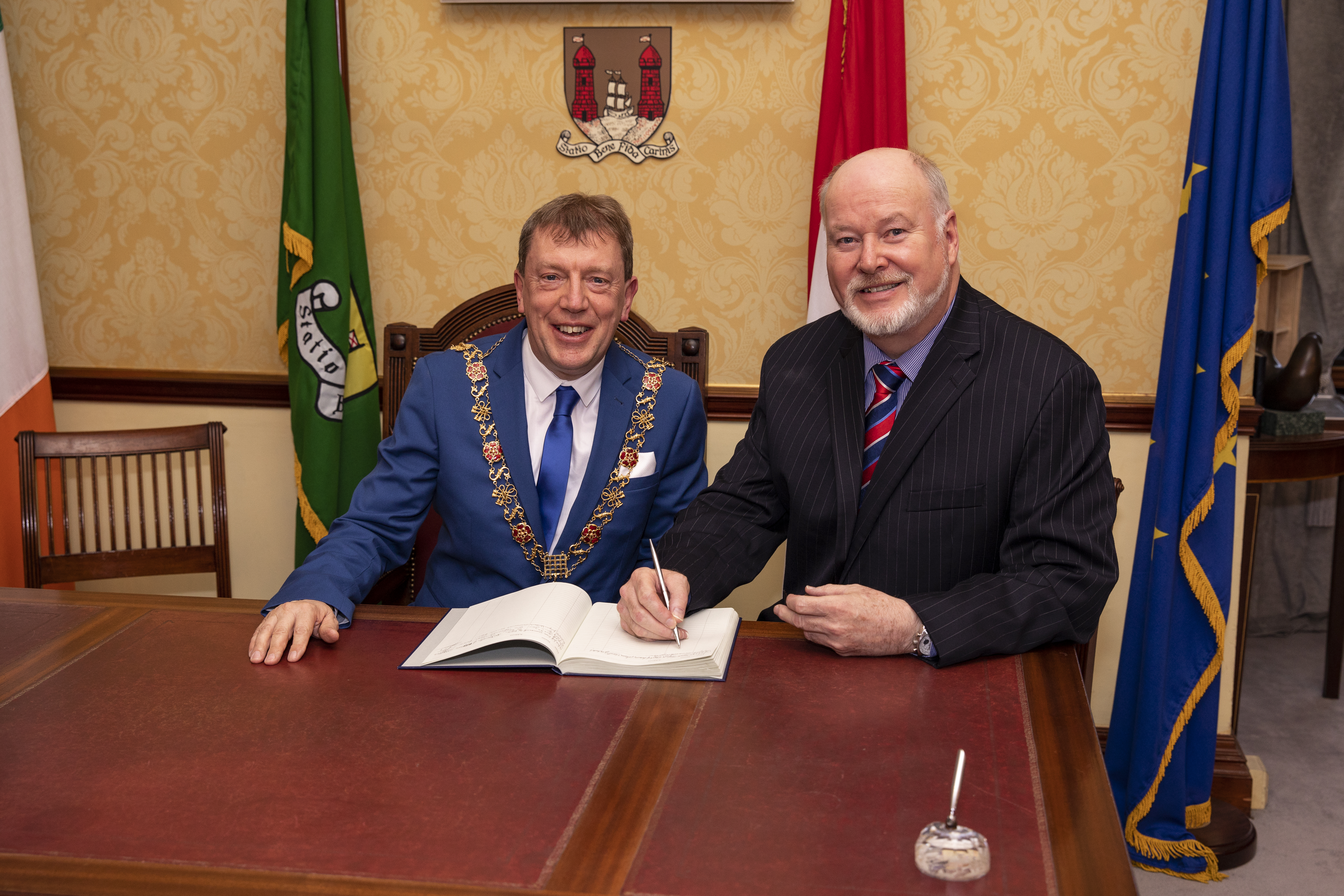 Pic: Andrew Roche pictured recently with Lord Mayor of Cork, Tony Fitzgerald
From local businesses to local councils, tourist boards to sporting organisations, Andrew did business with them all, from media work to customer service, he never shied away from what was needed to be done. This is a man so driven and passionate about his role he still sees huge potential and opportunities for IÉ, but he says we need to have our fingers on the pulse and be ready to capitalise. He says "It's been a great job and a very enjoyable one – and I wish my successor every success and happiness in the role".
On reflecting on his career Andrew has great memories. He says he has had some great bosses and mentors over the 46 years who offered great direction, help and guidance, the best of work colleagues and customers who have all become much more, they are now his friends.
For now though he has reached his destination in Iarnród Éireann and is about to start a new chapter in his life. Shortly after his retirement, he has planned a one-way trip to Santiago de Compostela to walk another Camino. He says that's important too as he needs to get used to the idea of not having to return to work on a certain date or time. "I will book my return flight when I'm ready to come home". He can enjoy his trips a bit longer now. We wish him a "Buen Camino".
Print