JAM Card available from 25th November - helping public transport users who need Just A Minute
11 November 2019
JAM (Just a Minute) Card allows people with a communication barrier tell others they need 'Just A Minute' discreetly and easily.
The JAM Card was created by NOW Group, a social enterprise that supports people with learning difficulties and autism into jobs with a future and their service users told them that they would like a way to relay to people that they need a little extra time or patience.
Find out more about NOW Group at nowgroup.org and JAM Card at jamcard.org.
For those with a learning difficulty, autism, Asperger's or any condition where there can be a communication barrier, the JAM Card allows users to relay to others that they may need a little extra time in a simple, effective non-verbal manner. The JAM Card is useful when on public transport, in a retail or any other customer facing environment.
There are 3 message options to choose from:
Please be patient, I have autism or Asperger's
Please be patient, I have a learning disability or difficulty
Please be patient, I have a condition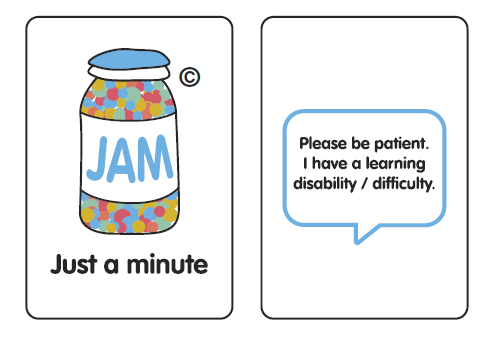 Where can I get one?
You can pick up an JAM Card at one of the following stations;
Connolly Station, Dublin
Pearse Station, Dublin
Heuston Station, Dublin
Kent Station, Cork
Ceannt Station, Galway
Colbert Station, Limerick
Plunkett Station, Waterford
MacDiarmada Station, Sligo
You can also request one directly from NOW Group by visiting the JAM Card website and filling out the request form.
If you prefer not to use a physical card, there is a JAM Card app available for Android and iOS. The app allows you to choose your message option, leave reviews and find other JAM friendly businesses.
Previous Article
01 November 2019
Next Article
21 February 2020