Graduate Programme 2022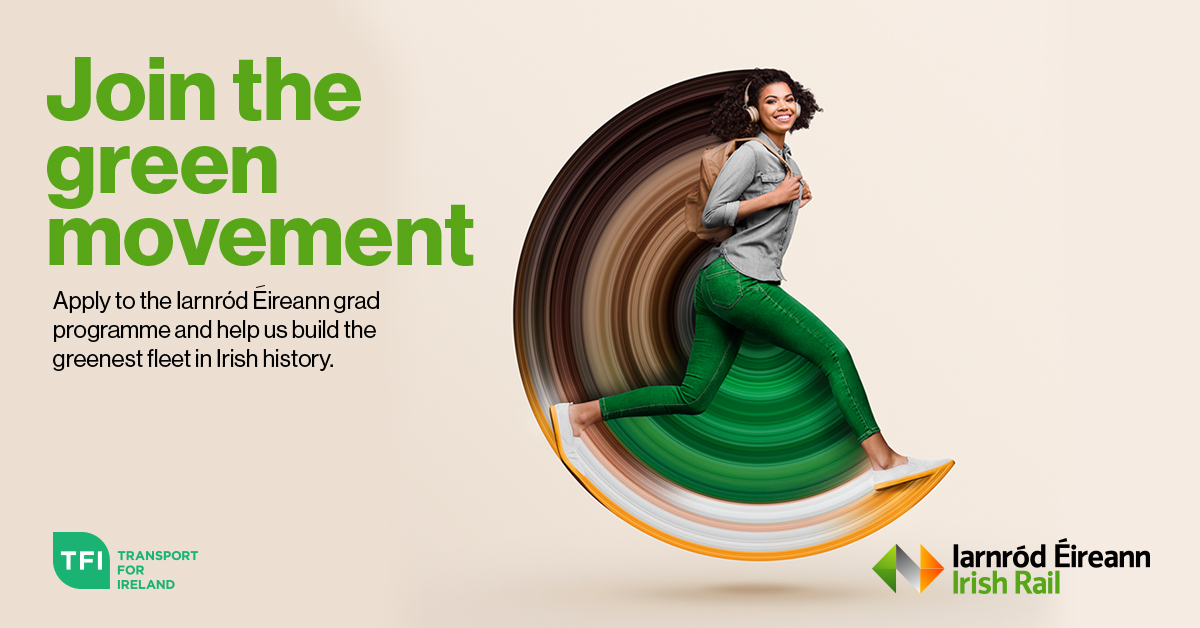 The Iarnród Éireann Irish Rail graduate programme celebrates the values of the company and educates graduates as future leaders on our technical and leadership competencies. It facilitates the practice of these expected behaviours and it provides an excellent opportunity to disseminate new and evolving ideals and expectations throughout the organisation by developing graduates who become values ambassadors.
Aim
The Iarnród Éireann Irish Rail Graduate Programme is designed to offer engineering graduates a broad range of experiences to develop their skills and expertise within Iarnród Eireann Irish Rail. The programme addresses a range of key learning needs related to the future skills for work while taking a whole person approach to material delivery.
Scope
The programme provides graduates with an opportunity to further develop the skills gained throughout their educational journey, aligning them with the expectations within Iarnród Éireann Irish Rail while introducing new avenues for application. This programme is designed to enhance already present skills and develop new complimentary skills that will help graduates navigate their new roles and responsibilities in line with the needs expressed by the organisation.
The programme consists of a series of masterclasses run over three years, the duration of the programme. These masterclasses are run across all graduate disciplines together. They are designed to reinforce the value structure and core competency framework at Iarnród Éireann Irish Rail. They will advance understanding and application of new skills that will create engaged, accountable and innovative graduates who can become productive, future-focussed, inspiring, and self-directed employees, leading Irish Rail into the future.
This programme comprises several structured placements within the relevant technical and functional department and throughout the company.
Graduates will work with experienced engineers and railway professionals trained by Engineers Ireland during the program and be assigned a mentor.
Following each placement graduates will undertake a review with their mentor to review performance and identify further development needs in the next placement.
Learning Objectives
Provide learners with a range of skills recognised as must have skills for 21st century success
Advances understanding and application of new technical skills
Develops technical knowledge in a wide range of disciplines
Experiences challenging and rewarding projects across Iarnród Éireann Irish Rail
Creates a foundation skillset that will facilitate advancement from entry level through to leadership roles
Generates a forward-focused mindset that will help shape Irish Rail into the future
Blends commercial and customer awareness and success with personal and professional development
Opportunities may arise in any of the below areas. Career opportunities will be shared on our Careers Page and our Social Media pages.
Testimonials
Hear about the Iarnród Éireann Irish Rail (IÉ) Graduate Programme from some of our current graduates in the video below:
Find us at your third level institution's Career Fairs
Career Fairs 2022

University/Third Level Institution
Institution and Department
Date and Time

UCD – Finance

UCD – Engineering

Tuesday, 28th September, 11am

Wednesday, 29th September, 11am




DCU - Engineering and Finance

Tuesday, 28th September, 12 noon




Trinity - Finance

Thursday, 30th September, 11am




NUIG - Engineering & Finance

Tuesday, 5th October, 11am




UCC

Wednesday, 6th October, 11am




University of Limerick

Thursday, 7th October, 11am




LIT

Tuesday, 12th October, 12noon




AIT

Wednesday, 13th October, 12noon




Trinity - Engineering

Thursday, 14th October, 11am




TU Dublin (Engineering & Science)


TU Dublin (Construction & Engineering)


Thursday, 21st October, 11am

Wednesday, 20th October, 11am




Queens University

Wednesday, 20th October, 2pm
Values
As a company, our culture is guided by our five core values – these are the integral bases which define who we are and where we are going as an organisation. We recruit based on these values – so we already know you're going to fit right in! Each of these values are equally essential and we strive to embody them on a daily basis.
Iarnród Éireann Irish Rail is an Equal Opportunities Employer.

Print