East Coast Railway Infrastructure Protection Projects ECRIPP

Project Overview
Iarnród Éireann operates and maintains a safe rail network on the east coast of Ireland. The Dublin to Wicklow section of this line is a critical part of the rail network, with southside DART, Gorey commuter and Rosslare Europort Intercity services operating along this scenic route.
In recent years Iarnród Éireann has seen an increase in the frequency of storm events as result of climate change. This necessitates more and more maintenance works to be carried out to respond to the effects of coastal erosion, wave overtopping and coastal flooding on the rail line and supporting infrastructure. These works result in increasing disruption to existing services and may render the line unviable in this area in the future.
In 2017 Iarnród Éireann undertook a feasibility study to assess the anticipated increase in maintenance requirements for this area resulting from climate change. This study identified several key areas between Dublin and Wicklow where strategic intervention at this time would enable existing rail services to continue to operate with minimal disruption.
The East Coast Railway Infrastructure Protection Projects (ECRIPP) was established to deliver the necessary enhanced coastal protection to the existing railway infrastructure in a number of key locations on this rail network.
ECRIPP is currently undertaking surveys that will help develop design options and solutions for each affected area and we will look to present the emerging preferred option for individual areas to the public in Autumn, 2023. Feedback on the proposals will be incorporated into further design development which will culminate with submissions for the necessary statutory consents in Q4 2024.
Further detail on ECRIPP and the steps being taken to protect sections of the Dublin to Wicklow rail line can found below.
Some sections of the coastal railway south of Dublin to Wicklow are vulnerable to the impacts of coastal erosion, coastal flooding, wave overtopping and cliff instability that is expected to increase both in frequency and severity in future years as a result of climate change. More information on the impact of climate change in Ireland is provided at www.climateireland.ie.
The impacts of coastal erosion on the east coast of Ireland from Dublin to County Wicklow are increasingly evident with beaches and cliffs slowly being lost on an annual basis. Iarnród Éireann Irish Rail (IÉ) has first-hand experience of these impacts. This rate of loss will increase in line with sea level rise and storm frequency/intensity increases as a result of climate change. Some areas of the East Coast rail line have seen encroachment through the loss of coast of up to 20-30 metres in the last 10 years alone. This has resulted in large losses in land and habitats, and incursions to such levels that the railway line between Dublin and Wicklow, is vulnerable to further loss due to coastal erosion.
The current east coast rail line is fully operational. ECRIPP will mitigate against coastal erosion, extreme weather and coastal flooding to ensure rail connectivity is maintained. Iarnród Éireann will continue to undertake maintenance and remedial works in key areas along the east coast rail line.
Key Project Objectives
The primary focus of this project is to address and implement protection of the existing railway and coastal infrastructure against the further effects of coastal erosion due to climate change in five key areas on the railway line between Dublin and Wicklow.
The key objectives of the project include;
support the continued safe operation of rail services;
increase railway infrastructure future resilience to climate change;
provide improved and sustainable coastal protection works against predicted climate change effects such as sea level rise, coastal erosion, storm surges on the east coast railway corridor;
secure the railway line for future generations;
allow for the long term efficient management and maintenance of the railway corridor;
support sustainable low carbon local, regional and international connectivity fostering a low carbon and climate resilient society;
Coastal Cell Areas
Five key locations have been assessed as requiring protection to increase resilience to coastal erosion as a result of climate change. These five coastal cell areas have been assessed as they have experienced incursions to such levels that existing infrastructure is at risk due to coastal erosion.
These five coastal cell areas (CCAs) are;
CCA1 - Merrion to Dún Laoghaire
CCA2-3 - Dalkey Tunnel to Killiney station and Killiney South
CCA5 - Bray Head to Greystones North Beach
CCA6.1 - Greystones to Newcastle
CCA6.2 - Newcastle to Wicklow Harbour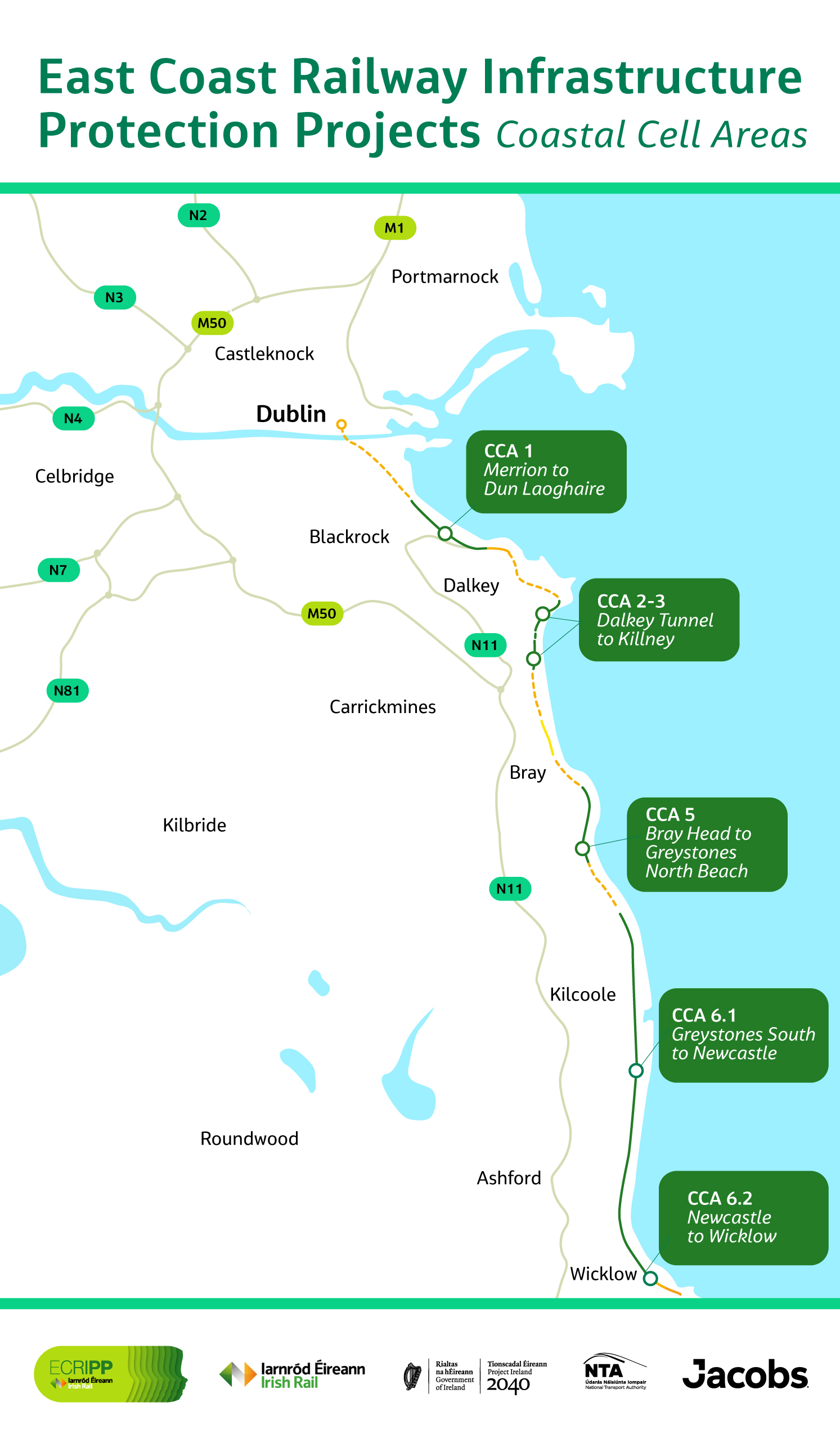 Click here for an Accessible version of the ECRIPP Coastal Cell Areas map
Where are we now?
We are currently in Phase 2 Project Concept, Feasibility and Option Selection. During this phase the project team is undertaking physical assessment and evaluating the environmental constraints of each of the five Coastal Cell Areas. We will develop appropriate measures termed 'options' and consider the risks associated with each option in terms of addressing coastal erosion.
Over the coming months we will be carrying out several surveys to inform Phase 2. These surveys will cover non-intrusive ecological surveys, topographic surveys, unmanned aerial vehicle (UAV) surveys and bathymetric surveys. We also plan to carry out ground investigation to inform the design close to the rail line.
Next Steps
The project team will evaluate all options using an objective assessment methodology. This will define an emerging preferred option that will be published as part of a non-statutory public consultation later in 2023. Public feedback received during the public consultation will be used to inform subsequent designs.
The capturing of feedback given by stakeholders is critical during the design development process and is a key element to the delivery of ECRIPP. We welcome public feedback during all stages of the design development. Feedback and queries can be submitted through the project e-mail address, or by written correspondence.
For further details see the Contact Us section.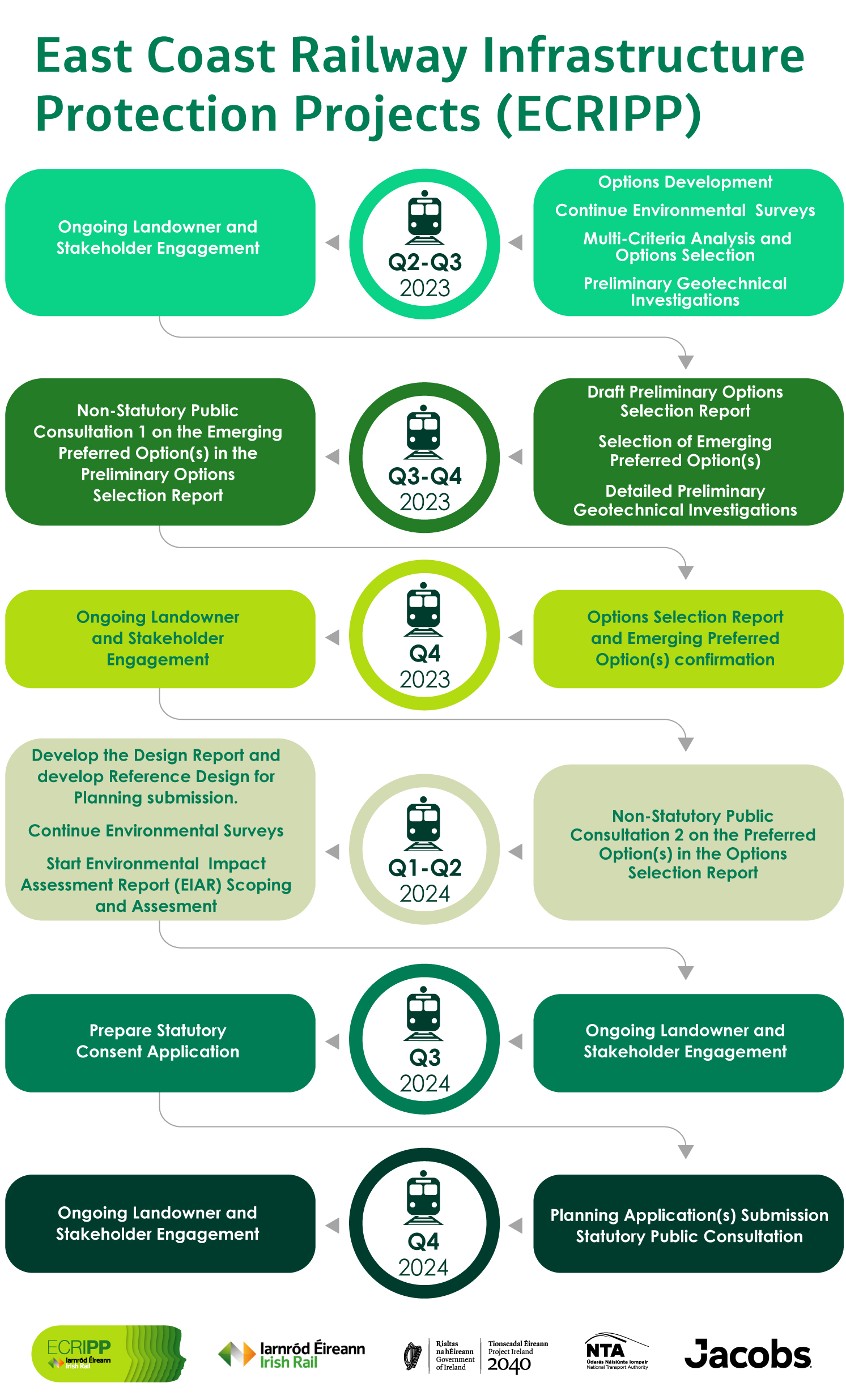 Click here for an accessible version of the project timelines and milestones graphic
FAQs
ECRIPP - FAQs
Project Funding
Iarnród Éireann is committed to this project to ensure that critical infrastructure is protected and we meet the ambitious long-term national climate change targets and commitment to protect and improve public transportation in line with Iarnród Éireann's Strategy.
ECRIPP is funded by the Department of Transport, through the National Transport Authority under Project Ireland 2040. Iarnród Éireann is committed to this project and it is provided for in the Programme for Government and the National Development Plan.
Ultimately all projects are dependent on Exchequer funding for financing. Subject to receipt of planning permission approval and approval of the Business Case by Government, the project will go ahead.
Project Sponsors
ECRIPP is being implemented by Iarnród Éireann as part of Project Ireland 2040 and the National Development Programme.
Project Sponsors include: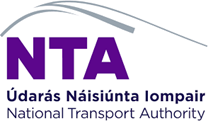 Contact Us
The project team can be contacted by emailing by;
Phone is 01 202 7900
Email ecrippenquires@irishrail.ie
Post: ECRIPP
Engineering & New Works Building,
Iarnród Éireann,
Inchicore Works,
Dublin 8 D08 K6Y3