Investment in New Trains
In order to support the expansion in rail services planned under the National Development Plan 2021 to 2030, part of Project Ireland 2040, and to cater for growing demand, Iarnród Éireann is progressing two major fleet orders.
41 New Railcars
In October 2019, the Government approved an order for 41 new railcars. These will be additional 22000-class railcar carriages bringing the overall size of this fleet to 275 railcars.
This represents an investment of €150 million, and the delivery of the carriages began in September 2022.
These new railcars will enter service on the Commuter and Intercity network during 2023, and they will be used to increase capacity and services in the context of post-COVID demand.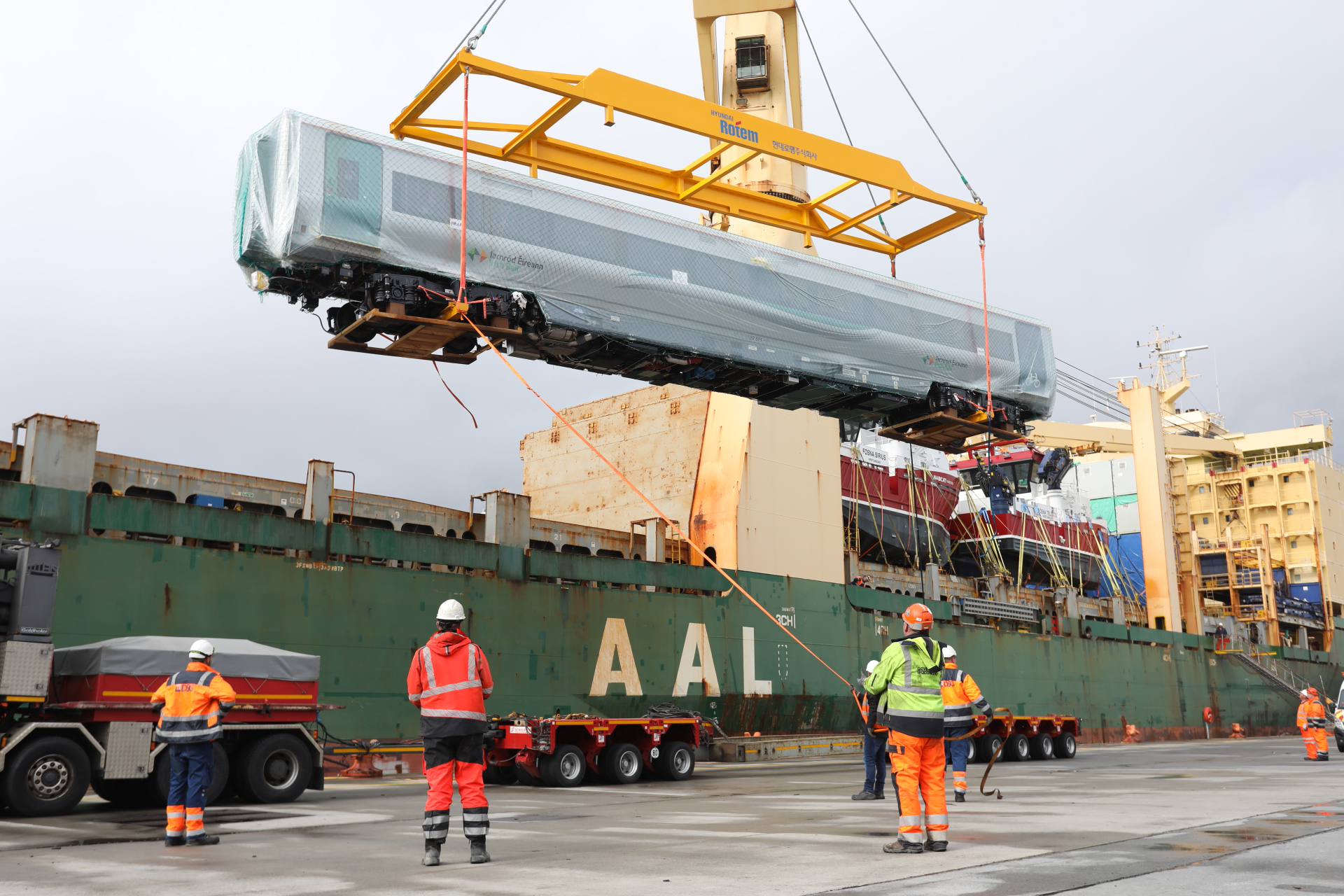 Up to 750 Electric / Battery-electric Hybrid Vehicles
In order to support the infrastructural capacity increases delivered by the DART+ Programme, additional rolling stock will be required.
Iarnród Éireann, supported by the NTA, awarded French supplier Alstom the contract to deliver the largest and most sustainable fleet in Irish public transport history in December 2021, for up to 750 electric / battery-electric powered vehicles over a 10-year timescale.
Two orders totalling 185 carriages have been placed to date, comprising six sets of five-carriage conventional electric trains and thirty-one sets of five-carriage battery-electric trains. While purely electrically powered trains are expected to make up the majority of the train orders, these orders will allow Iarnród Éireann to deliver frequency and capacity increases across the network while electrification is being progressed, both in the Greater Dublin Area and potentially in the Cork Commuter area.
As well as the capacity increases that will be delivered through the DART+ Programme and the new DART+ Fleet in the Greater Dublin Area, Intercity carriages currently in use on Commuter services will be cascaded upon arrival of the new electrically-powered trainsets to enhance and strengthen other rail services.
Subsequent orders are intended to be placed in line with the delivery of the DART+ Programme, and in line with requirements for replacement of the original DART fleet (dating from 1984) later in the decade.
Ultimately, the overall order will see the Greater Dublin Area (GDA) total rail fleet and up to 80 percent of all heavy rail journeys in Ireland, set for a potentially emissions-free future.
The DART+ Programme is a revolutionary €2 billion investment under Project Ireland 2040 set to double the capacity and treble the electrification of the Greater Dublin Area network, bringing DART travel with all its benefits to new and existing communities.
You can learn more about the overall DART+ Programme and the new DART+ Fleet on www.dartplus.ie.
Intercity Carriages
The 41 x new Intercity carriages on order from Mitsui and Hyundai Rotem since December 2019 are an additional order to expand existing diesel intercity trains that operate nationwide. They are single carriages and will make existing trains longer (5 car will become 6 car and so on) and as such are very similar to the existing vehicles.
1. Toilets – no toilets are fitted to these vehicles, existing trains that are being lengthened already have a toilet in every carriage. A multipurpose area is installed instead featuring 9 x flip up seats and a standing area with hand rails, bicycle storage.
2. Bike Capacity – The existing train already has capacity for 2 x bicycles. These additional new carriages have a further 2 nominated bicycle spaces (with locating straps) in the multipurpose area. However this multipurpose area can accommodate a variety of uses for example such as a larger group of bicycles and cyclists provided they are attended during the journey or families with buggies and so on.
3. Fuel type – Diesel as per the existing fleet. These carriages come ready for hybrid battery fitment when available in the near future.
New DART Fleet
Two orders have been placed with Alstom Transport for the new DART fleet to date:
- December 2021: 19 x 5 car trains. They will begin to enter passenger service from mid-2025 onwards.
- December 2022: 18 x 5 car trains. They will begin to enter passenger service from 2026 onwards.
The main contract is for 10 years allowing up to 750 cars to be purchased on a call off basis.
1. Toilets – there are no toilets fitted to these vehicles in line with existing DART fleet. Interiors are designed for passenger capacity.
2. Bike capacity – There are 4 bicycle spaces per train with 2 spaces in each front & end vehicle. Charging for e-bicycles is also provided.
3. Fuel type – The fleet is electrically powered from an overhead line. In addition 13 of the 19 trains also have battery storage enabling normal operation on lines beyond the overhead line system e.g. Dublin Connolly to Drogheda.