Cork Line Level Crossings Project
Project Overview
Iarnród Éireann is undertaking the Cork Line Level Crossings Project to identify the best approach to
removing/upgrading seven level crossings located along the main Cork to Dublin line. These level
crossings are being removed/upgraded to provide a safer environment for those living near the rail line
and a more efficient service for all Iarnród Éireann customers.
There are currently seven manned public road level crossings in operation on the Cork to Dublin line
between Limerick Junction and Mallow stations in Counties Cork and Limerick. The crossings are
located within a 24km section of the line between the Cork and Limerick county boundary.
The crossings are located at Fantstown, Thomastown, Ballyhay, Newtown, Ballycoskery, Shinanagh
and Buttevant.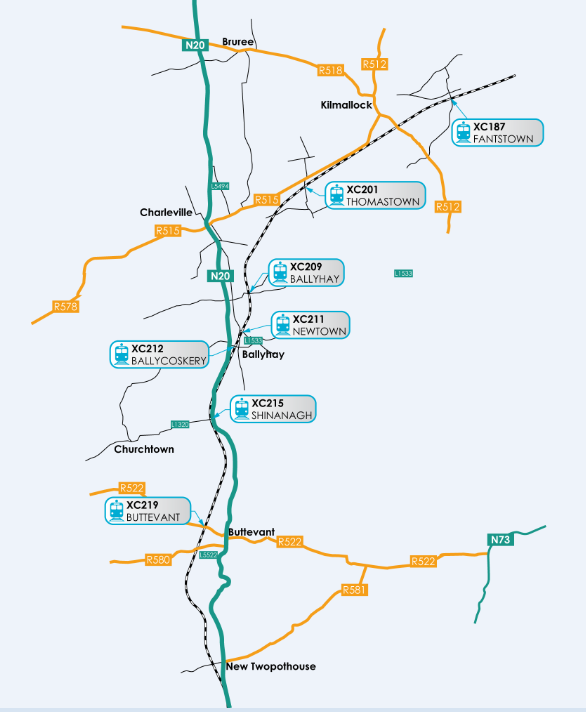 Project Consultation Roadmap
Members of the public, interested stakeholders, landowners and prescribed bodies are being invited to contribute to the development of the Cork Line Level Crossings Project through public consultation and engagement at keys stages, as outlined in the Cork Line Level Crossings Public Consultation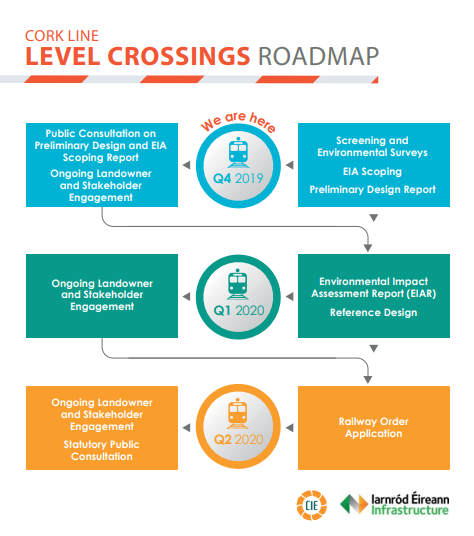 Public Consultation
The public consultation with regards to a change to the preferred option for the elimination of level crossing XC211 Newtown, from the Green Route to the Blue Route has now closed.
The XC211 Newtown Blue Route
Iarnród Éireann has published a Preliminary Design Report which shows the proposed solution for XC211 Newtown level crossing. We are seeking feedback on the Preliminary Design Report and Environmental Impact Assessment (EIA) Screening & Scoping Report and any other comments or observations on the XC211 Newtown Blue Route
The proposed XC211 Newtown Blue Route provides a new link road to the east of the railway corridor to connect the local road at the east side of the level crossing XC211 with the local road to the north east of the level crossing.
Public consultation will be undertaken for 4 weeks from 10th February to 6th March 2020 during which time information on this consultation can be viewed and downloaded here;
What happens next?
All submissions and feedback received during the public consultation will be reviewed and considered as part of the ongoing design development on each of the seven level crossings. Relevant feedback will be incorporated into the final design for the Cork Line Level Crossings Project and the accompanying Environmental Impact Assessment Report.
Submissions from individuals will be reported anonymously and feedback from organisations will be attributed to them. Submissions will not be individually responded to but will be summarised in a consultation report which will be published on irishrail.ie/CorkLineLevelCrossings.
The Cork Line Level Crossings Project will submit a Railway Order planning application to An Bord Pleanála for its independent assessment in 2020.
Publications
Environmental Impact Assessment (EIA) Screening and Scoping Report
Preliminary Design Report
Public Consultation Information Leaflet
FAQs
Maps and Drawings :
Contact Us
For any queries on CLLC please contact the project team through one of the following channels:
Email: CLLC@irishrail.ie
Post: Cork Line Level Crossings Project, c/o Jacobs, Mahon Industrial Estate, Blackrock, Cork, T12 HY54
Print