Cork Line Level Crossings Project
Project Overview
Iarnród Éireann is undertaking the Cork Line Level Crossings Project to identify the best approach to
removing/upgrading seven level crossings located along the main Cork to Dublin line. These level
crossings are being removed/upgraded to provide a safer environment for those living near the rail line
and a more efficient service for all Iarnród Éireann customers.
There are currently seven manned public road level crossings in operation on the Cork to Dublin line
between Limerick Junction and Mallow stations in Counties Cork and Limerick. The crossings are
located within a 24km section of the line between the Cork and Limerick county boundary.
The crossings are located at Fantstown, Thomastown, Ballyhay, Newtown, Ballycoskery, Shinanagh
and Buttevant.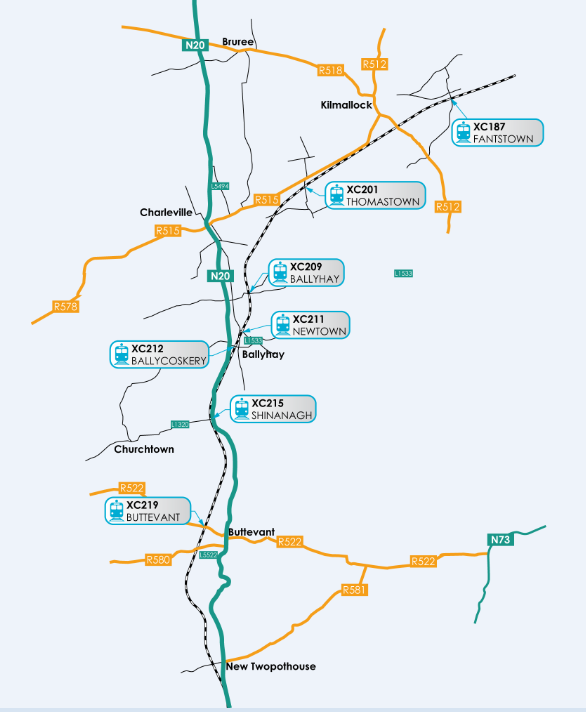 Railway Order
Iarnród Éireann has lodged a railway order for the Cork Line Level Crossings project to An Bord Pleanála. If you would like to make a submission on the project please follow An Bord Pleanla's procedure on this, www.pleanala.ie
If you would like further information on the application, please see information on the Cork Line Level Crossing Railway Order Page.
Public Consultation
Members of the public, interested stakeholders, landowners and prescribed bodies were invited to contribute to the development of the Cork Line Level Crossings Project through non-statutory public consultation.
All submissions and feedback received during the public consultation were reviewed and considered as part of the ongoing design development on each of the project. Relevant feedback was incorporated into the design and the accompanying Environmental Impact Assessment Report.
Contact Us
For any queries on CLLC please contact the project team through one of the following channels:
Email: CLLC@irishrail.ie
Post: Cork Line Level Crossings Project, c/o Jacobs, Mahon Industrial Estate, Blackrock, Cork, T12 HY54