Iarnród Éireann Night-time Track Works
28 September 2023
Here you will find a complete list of planned night-time track works to Iarnród Éireann rail services.
Iarnród Éireann is committed to providing a quality train service to the large number of DART, Commuter and Intercity passengers using the railway on a daily basis. In order to ensure safe delivery of these public services we have to constantly maintain and improve the track infrastructure. Most of this work is safety critical maintenance work which has to take place at night when passenger trains are not running. This work can be noisy and affect people whose homes are near the operating railway as it involves the use of on-track machines and power tools.
We endeavour to notify house owners adjacent to the railway of any planned night-time works near their homes. In the case of apartment blocks and multiple units, communication is primarily through the relevant management companies or multiple unit owners.
Night-time track works can involve:
Points and Crossing maintenance
Plain Line Track maintenance
Vegetation Control
Bridge maintenance and Renewals
Ballasting Works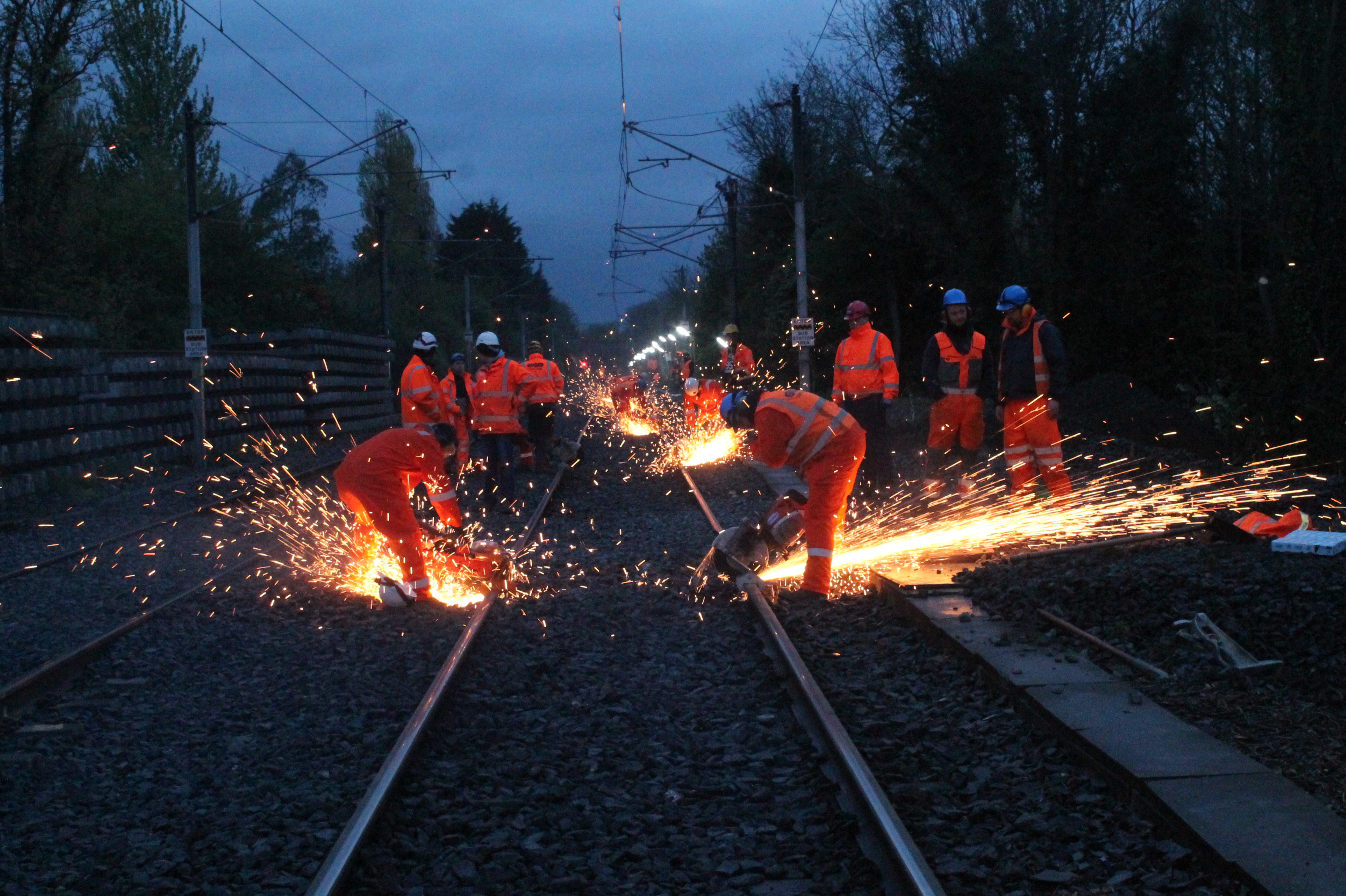 Night-time track works generally take place between midnight and 6am, except on Sundays when work can continue until 8am.
On some occasions, emergency works have to be carried out at short notice and it is not possible to advise home owners in advance. Also, some maintenance work is linear in nature and can be spread over approximately 2km on any one night alone, making it impractical to notify all of the homes that may be affected.
For alterations and amendments to the scheduled timetable due to line improvement works please see our Upcoming Line Improvement Works page.
The following currently scheduled night-time works are in close proximity to residential areas:
Night-time Track Works Across Iarnród Éireann Network

Station / Area

Date

Location

Ashtown - Enfield
2nd October - 6th October
Essential linear track maintenance. Use of heavy on track machines needed.
Athlone
From 18th July for approximately 10 weeks
Repair and painting works are taking place on the Shannon Bridge. During the works, which will primarily take place during day time hours so as to avoid disruption to local residents, there will be a lane closure on the road between Grace Road and Elliot Road (formerly Accommodation Road). Road traffic management for single lane traffic will be in operation and delays to road traffic will be kept to a minimum.
Bagenalstown - Lavistown
28th August - 30th September
Essential linear track maintenance. Use of heavy on track machines needed.
Ballyfermot
25th - 29th September
Landen Road. Access/Egress. Loading on/off machinery. Use of heavy on track machines needed.
Ballymote Co. Sligo

28th - 29th September

3rd - 6th October

Essential track maintenance works from 21:30-06:00 each night
Ballymote Co. Sligo

30th September - 1st October

7th-8th October

Essential track maintenance works from 17:00 until 09:00
Carragh - Monasterevin

25th - 29th September

Essential linear track maintenance (hedge cutting). Use of hand tools needed.
Cherry Orchard

2nd - 6th October

Essential linear track maintenance (rail repair). Use of heavy on track machines needed.
Cherryville - Monasterevin

2nd - 6th October

Essential linear track maintenance (hedge cutting). Use of hand tools needed.
Clonboyne - Monasterevin

3rd October - 4th October

Essential linear track maintenance (tree/hedge cutting). Use of heavy on track machines needed.
Clongriffin station

2nd - 5th October

Essential linear track maintenance. (Scaffold Erecting)
Clontarf station

2nd - 3rd October

Essential linear track maintenance (tree/hedge cutting).
Connolly - East wall
25th - 29th September
Essential linear track maintenance (points repair). Use of heavy on track machines needed.
Dalkey
19th -21st September
Essential track maintenance (overhead cable renewal). Use of heavy on track machines needed.
Dalkey
19th - 21st September
Dalkey compound. Access/Egress. Loading on/off machinery. Use of heavy on track machines needed.
Drogheda

25th - 29th September

4th October

Kearney's Yard. Essential track maintenance. Use of heavy on track machines needed.

Essential linear track maintenance (tree/hedge cutting). Use of heavy on track machines needed.

Drumcondra - Connolly
18th - 24th September
Essential linear track maintenance (rail repairs and cable installation). Use of heavy on track machines needed.
Dun Laoghaire
19th - 23rd September
West Pier. Access/Egress. Loading on/off machinery. Use of heavy on track machines needed.
Dunleer
2nd - 6th October
Access and Egress of heavy on track machines needed.
Fairview
7th October
Essential linear track maintenance (tree/hedge cutting).
Glasnevin - Maynooth
25th September - 1st October
Essential linear track maintenance. Use of heavy on track machines needed.
Greystones

2nd - 6th October

Essential bridge maintenance (OBR153). Use of heavy on track machines needed.

Hazelhatch
25th - 29th September
Essential linear track maintenance (hedge cutting). Use of hand tools needed.
Hazelhatch - Kildare
2nd - 6th October
Essential linear track maintenance (hedge cutting). Use of hand tools needed.
Kilbarrack - Howth
25th - 29th September
Essential linear track maintenance (Test Train).
Killester
4th - 6th October
Essential linear track maintenance (tree/hedge cutting).
Killiney - Dalkey
25th - 29th September
Essential linear track maintenance. Use of heavy on track machines needed.
Limerick city

3rd - 6th October

Essential hedge cutting and trackside vegetation clearance works from 22:30-06:00 each night

Newbridge - Cherryville

2nd - 6th October

Essential linear track maintenance (tree cutting). Use of heavy on track machines needed.

Newbridge

25th - 29th September

Essential linear track maintenance. (Tamping Works) Use of heavy on track machines needed.

Paulstown, Co. Kilkenny

2nd - 14th October

Site Stabilization Works. Use of heavy on track machines needed.

Portarlington to Cloneygowan

27th - 29th September
10th - 13th October

17th - 21st October

Essential track maintenance works will take place between Portarlington and Cloneygowan, Co. Offaly between 21:30-06:00 each night

Portarlington to Cloneygowan

14th - 15th October

Essential track maintenance works will take place between Portarlington and Cloneygowan, Co. Offaly between 17:00-09:00

Portarlington to Kildare

4th - 6th October

Essential track maintenance (rail repair/replacement). Use of heavy on track machines needed.

Portlaoise

4th - 30th September

Essential bridge maintenance at UBC145 and UBC146. Use of heavy on track machines needed

Portlaoise - Clonboyne

2nd - 6th October

Essential linear track maintenance (tree cutting). Use of heavy on track machines needed.

Portlaoise Traincare Depot

7th October

Essential track maintenance. Use of heavy on track machines needed.

Portmarnock - Malahide

2nd - 6th October

Essential linear track maintenance (tree/hedge cutting and preparation works for PandC renewal). Use of heavy on track machines needed.

Portmarnock - Malahide

25th September - 01st October

Essential linear track maintenance (tree/hedge cutting and preparation works for P&C renewal). Use of heavy on track machines needed.

Sallins

2nd - 6th October

Sallins. Essential linear track maintenance (tree/hedge cutting). Use of heavy on track machines needed.

Sandycove - Dunlaoghaire

4th - 9th October

Essential linear track maintenance (cable installation). Use of heavy on track machines needed.

Sandymount - Sydney Parade
4th - 5th October
Essential linear track maintenance (cable installation). Use of heavy on track machines needed.
Shankill - Bray
4th - 7th October
Essential linear track maintenance. Use of heavy on track machines needed.
Shankill - Woodbrook
2nd - 9th October
Essential linear track maintenance (Panel Relaying & Clam shelling). Use of heavy on track machines needed.
Sherlockstown
2nd - 3rd October
Essential linear track maintenance. (Tamping Works) Use of heavy on track machines needed.
Strandville Ave and Bessborough Ave
25th - 29th September
Essential linear track maintenance. (Scaffold Erecting)
Contact our Community Liaison, Infrastructure Department
Previous Article
28 September 2023
Next Article
02 October 2023