Centenary of the Mallow Shootings
By Peter Rigney, Irish Railway Records Society
On the night of 31 January 1921 RIC District Inspector King was out walking with his wife when they were fired on by an IRA ambush party shooting from the south end of Mallow station. Mrs. Alice King was hit and died shortly afterwards.
The RIC raided the station and rounded up the staff who were on duty. They were taken to the barracks under police escort with their hands over their heads. They were then told to run for their lives. They were then fired upon and most were wounded while three were shot dead. They were:
Denis

Bennett. a seventeen year old locomotive cleaner

Patrick Devitt, a signalman and father of eight.

Daniel Mullane, a twenty-three year old fireman who, having escaped himself went back to assist a wounded colleague. Mullane received three bullet wounds through the hips and died

a few days later.

Sixty eight year old signalman Joseph Greensmyth was thrown down the twenty foot stairs leading to the North signal cabin died the following June.
The men were members of the Associated Society of Locomotive Engineers and Firemen and the National Union of Railwaymen, both of which were based in London. The unions reacted strongly , with ASLEF threatening a strike throughout Great Britain.
J. H. Thomas MP, NUR General Secretary (and a privy councillor) raised the matter in the House of Commons, causing outrage when Hamar Greenwood, Chief Secretary for Ireland was greeted with the jibe of 'here comes the assassin' as he entered the Commons.
The NUR secured access for their lawyer to the military inquiry into the affair. The chairman of this enquiry, Brigadier-General H.R. Cumming, was killed in an IRA ambush on 5 March 1921, and another officer finalised the report, which was condemned in Ireland as a whitewash.
However, due to the presence of T. Healy KC representing the NUR and ASLEF, the report was probably a more thorough enquiry into civilian deaths than generally occurred in Ireland at that time. The Mallow deaths had propelled the behaviour of the Crown forces to the centre of British politics.
Official railway report
Three documents give an account of the events at Mallow.
The first is a two page report by the local manager. It was written the following day and is incomplete. Note how it reports on how the train service was got moving again, and the pointed reference to the looting of alcohol during the raid.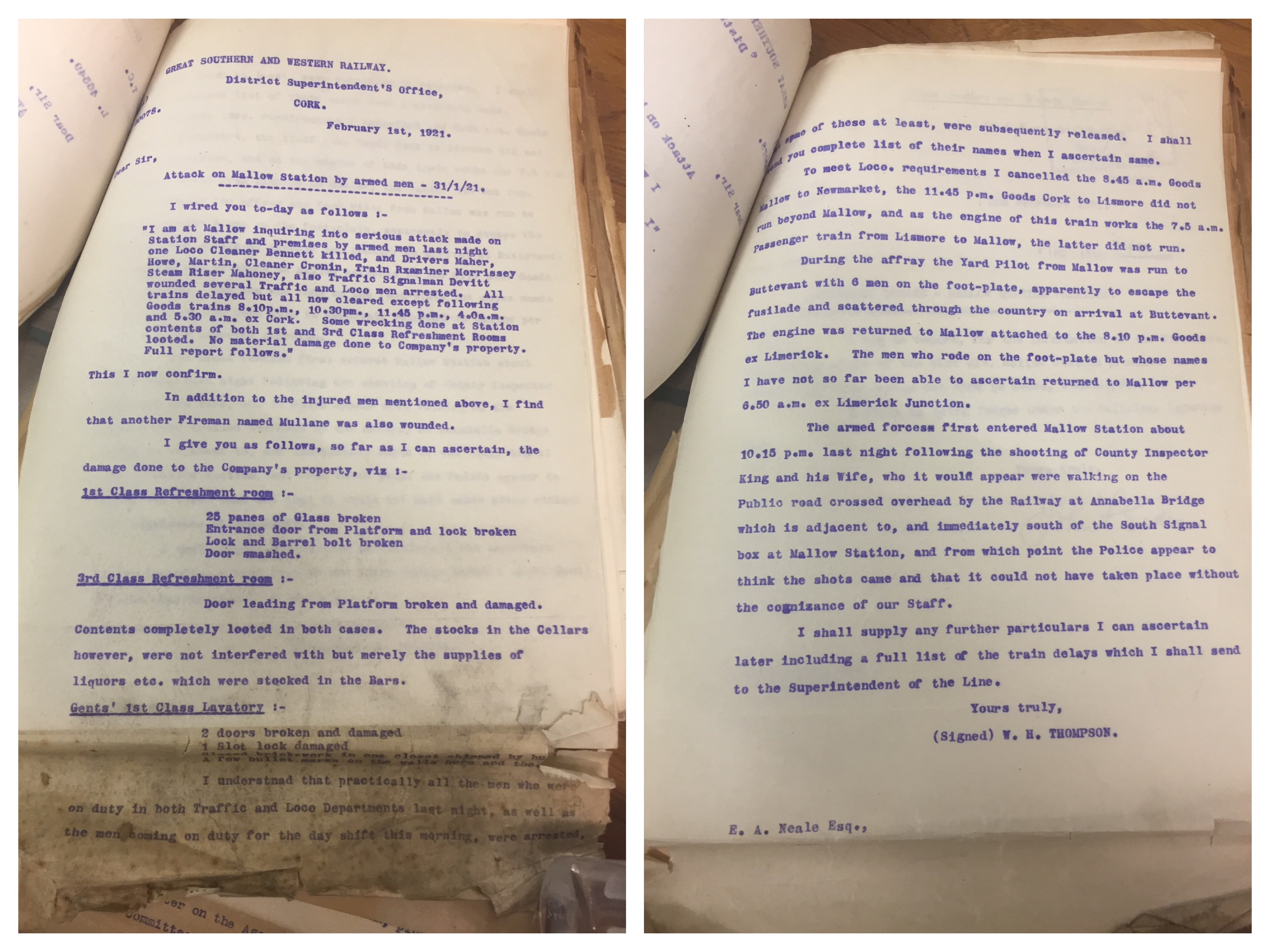 ASLEF Trade union report and NUR pamphlet
The second is from the ASLEF publication the locomotive journal.
The third is a link to a pamphlet published by the National Union of Railwaymen. This was written by Barbara Hammond, of the London School of Economics, who was in Ireland at the time.
Thanks to the library of the Trade Union Congress in London for tracking down a copy of this.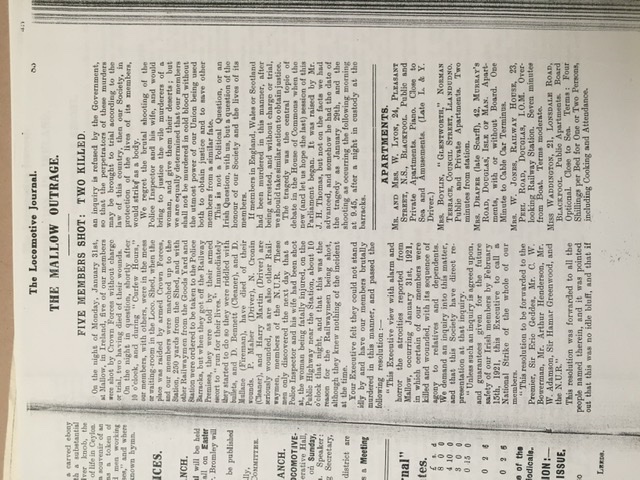 Print