School Group Train Travel
A fun day out for your school group starts with the train. Schoolchildren and teachers alike get a sense of occasion when you make travelling by train a part of your school trip. Tables at every seat and ample space for everyone to sit back and enjoy the journey whilst the scenic countryside rolls by, you might even get a game or quiz in along the way.
Iarnród Éireann offer school's group discounts of 10 percent for groups of 11 or more.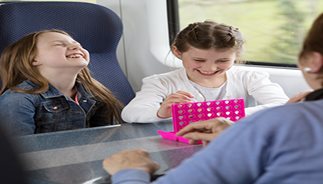 Group discounts are based on our Semi Flex web fare, allowing you some flexibility to amend your school's booking should you need to up to 24 hours before you are due to travel once your tickets have not been printed. Cancellations and amendments are at a fee of 20 percent.
Below are some examples of our most requested School Group Fares.
School Group Child Fares Examples*
Galway to Dublin - €7.20 per child
Killarney to Fota - €7.38 per child
Thurles to Dublin - €8.99 per child
Westport to Dublin - €8.10 per child
Cork to Dublin - €11.15 per child
*These are return fares based on 11 passengers getting a 10 percent discount.
To book your school group train travel you can book online or alternatively you can call us on (01) 8366 222 or contact your local sales team at:
For more information please view or download our School Group Travel Brochure or if you are looking for any ideas on where to go check out our School Tour Ideas.
If you are planning on organising a school tour why not let us take you there! With a wide network across Ireland why not let students experience the whole of Ireland! Take a look at possible destinations here.