Booking a 'Free Travel Pass or Valid Ticket' option
Covid 19 Information
Customers are advised that assigned seating has been reintroduced on board from 11th October 2021. For InterCity travel pre-booking is mandatory until further notice.
Free Travel Pass holders wishing to book their ticket should select the option 'Free Travel Pass or valid ticket holders'.
A 'Free Travel Pass or valid ticket holders' option is an option for customers who would like to pre-book on a service and who are in possession of a ticket(s) such as Family Tickets, Single, Day Return, Weekly, Monthly, Annual, Taxsaver Monthly, Taxsaver Annual, InterRail and Free Travel pass holders/DFSA free travel scheme.
A 'Free Travel Pass or valid ticket holders' option is not a valid ticket for travel on its own.
Customers are advised there is limited availability for 'Free Travel Pass or valid ticket holders' options online. Also please note tickets are only available up to 90 days in advance.
Looking for more information check out our FAQ Where do I find Information on the Free Travel Pass?
Step by Step guide to booking a 'Free Travel Pass or valid ticket holders' option
Step 1 - Enter your origin and destination in the 'From' and 'To' fields, select a 'Single' or 'Return' ticket and select your date(s). Select the type and number of passengers travelling on the journey eg 2 Adults 1 Student.
Step 2 - To book, select 'Free Travel Pass or Valid Ticket holders' a pop-up will appear on your screen(see images below). If you are travelling with multiple passengers please tick the box for each passenger that is entitled to free travel.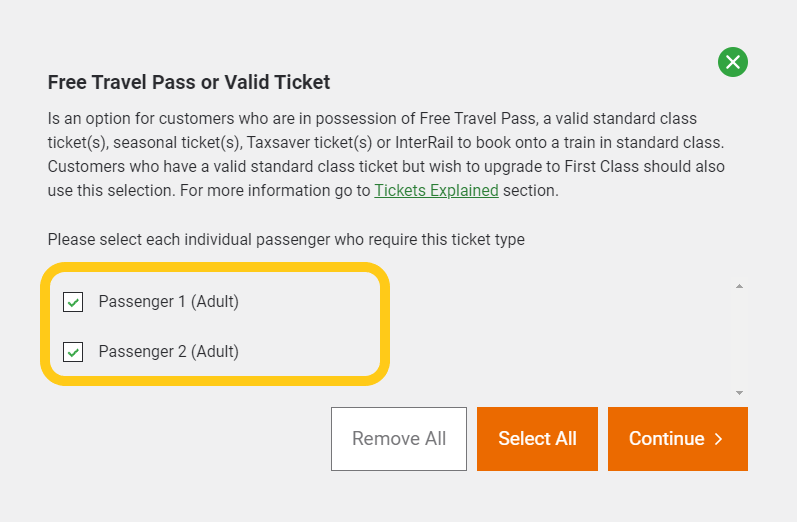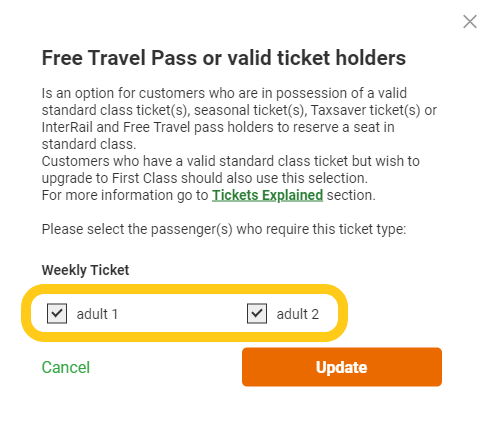 Once you have all the required fields filled out select 'Go'. You will then receive a full list of available services and the total price for all passengers travelling will be displayed.
Step 3 - Choose the service(s) you wish to travel on by selecting one of the fares presented and select 'Book Tickets'. If you are looking for further information like intermediate stations and catering offering, select the 'Trip details' button.
Step 4 - Log in - If you have an existing Irish Rail account then you need to enter your email address and password and select 'Login'. If this does not work select "forgotten password" option and follow the instructions on screen. If you don't have an account you can continue as a 'Guest' to the 'Passenger Details' page.
Step 5 - Passenger Details - Enter name(s). If you don't have an account, don't worry, you can register for an online account by simply ticking 'Yes, I wish to create an Iarnród Éireann account' under 'Customer details'. Once your booking is complete you will receive an email with your password, please ensure that you copy and paste the password from the email to avoid making a mistake typing in the password. You can update your password under 'My Account' if you wish.
Step 6 - Payment Overview - Read and agree to the terms and conditions then click 'Pay Now'
Step 7 - Confirmation - You have now reached the confirmation page, make sure to write down your 'Ticket Collection Number' and keep it safe in order to collect your tickets, you will also receive an email confirmation of your booking with the details included. You can now add the booking to your calendar for convenience!
Step 8 - Collect your Ticket - Use your 'Ticket Collection Number' to print your ticket at the train station you are travelling from. For more information on collecting your ticket(s) click here.
Print