Enterprise
Enterprise
Life takes the train...
Bring all the luggage you need. Stretch out and get comfy. Plug in, switch on and get connected to free Wi-Fi.

Or sit back, relax and enjoy an upgrade to the luxury of Enterprise Plus.

Whether its business or leisure, life doesn't stop when you step on board the train. So, make the most of your journey to Belfast with Enterprise.

Plan your trip today and enjoy great value online fares from just €17.99 each way and bring the kids along from just €10 each way. With two hours on board to get ahead on your emails or catch up over a coffee, choose the convenient service to Belfast.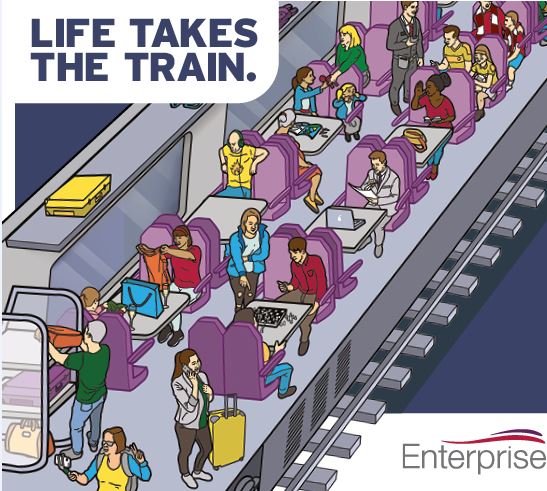 Let us take you there…
From day trips to city breaks, there's so much to do when you arrive in Belfast. Check out our Top 5 picks for an unforgettable visit:
1. It's Festival Season
Belfast's fantastic line-up of festivals is sure to energise your stay. Take your pick of over 200 events across 20 days from the 15th October to Sunday 3rd November at the 57th annual Belfast International Arts Festival, expand your mind at the Aspects Irish Literature Festival and celebrate 30 years of the Cinemagic International Film & Television Festival.
2. Treats in the Market
The iconic St. George's Market is a must on any trip to Belfast, with local crafts and artisan delights. And if you're planning a visit from November 16th, you can't miss the Christmas Market at Belfast City Hall.
3. Award Winning Science & Discovery
Over 250 amazing interactive exhibits in four incredible exhibition areas along with a daily programme of live science demonstrations ensures W5 provides a unique experience as well as fantastic fun for visitors of all ages.
4. The World's Largest Titanic Visitor Experience
Titanic Belfast tells the world's most famous ship's story right where she was built, and this world-class tourist attraction brings history to life in an interactive way that every visitor will enjoy. Explore the iconic slipway, step aboard the HMS Caroline and see a one-of-a-kind view across the city.
5. The King in the North
Game of Thrones® may be over, but the legend of Westeros lives on in Belfast! Follow the trail from Belfast City Hall to Titanic Studios and see the epic Glass of Thrones installations, or grab a brew at The Dark Horse café and bar where you'll find one of the famous Game of Thrones® doors crafted from felled trees that once lined the King's Road itself!
Getting to the City Centre
Customers with a valid rail ticket can travel between Belfast's Lanyon Place station and the city centre free of charge on any Metro Bus, Ulster Bus 500 and Glider G1 services. Customers can also avail of free travel to Titanic Quarter station by train.