Railway People: Patricia Bermingham, Station Operative, Hazelhatch and Celbridge Station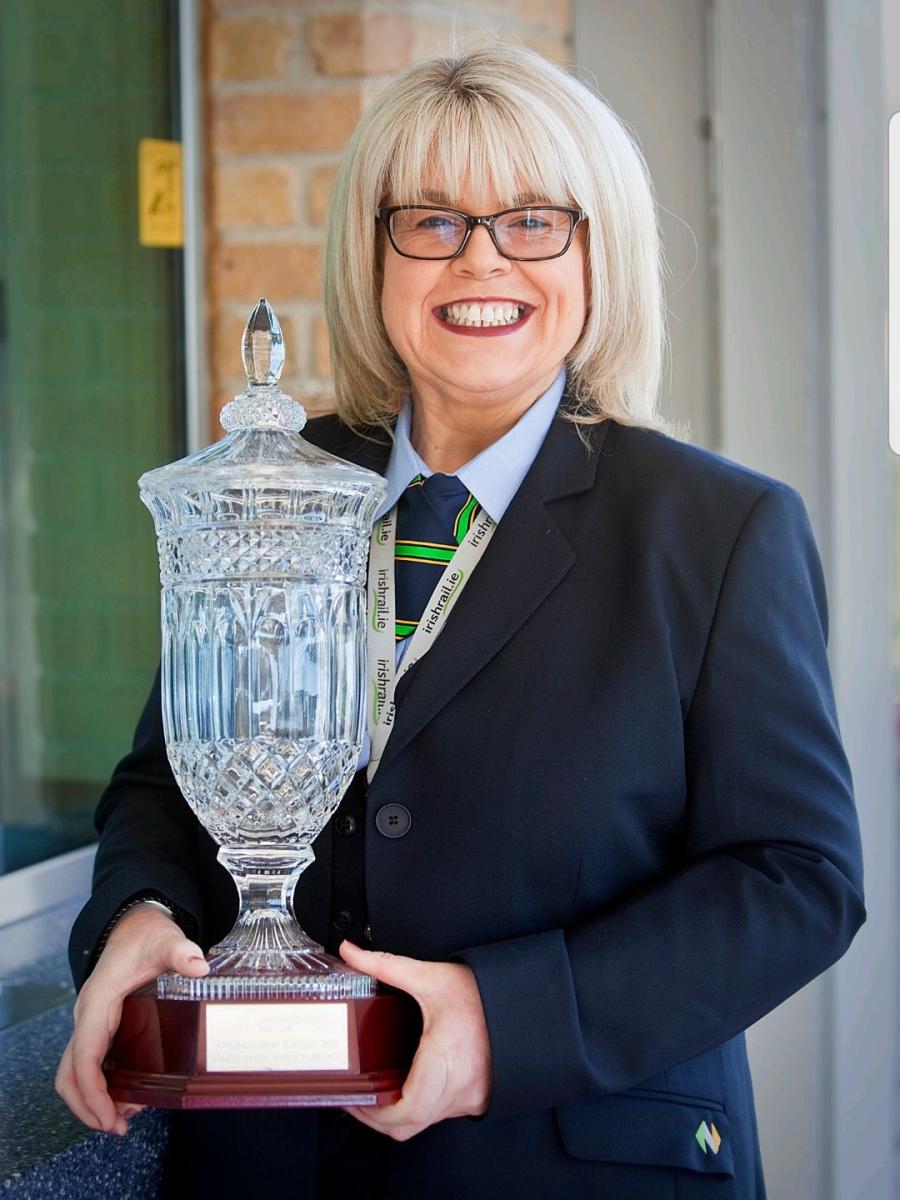 In this edition of Railway People we meet with Patricia Bermingham, Station Operative, Hazelhatch and Celbridge Station which was recently named the Best Station in Ireland.
Patricia started her career with the company 13 years ago in November 2005. After her father Billy Bermingham, who also worked in Hazelhatch, retired the following December, Patricia had the opportunity to succeed him, an offer she didn't hesitate in taking on.
Being a people person, Patricia has enjoying meeting lots of customers over the years and stated 'It is really important to me to ensure that customers coming through the station are happy with how I advise them and feel confident before they travel. I also enjoy meeting so many different people, which can include lots of tourists who use the station as a point to walk the Arthur Guinness walk'
Patricia has seen a lot of changes over the years. 'The Station opened in 1994. We only had 2 tracks at the time and a portable cabin was used as the booking office. The Station received a much improved upgrade with the Kildare Route Project, which included a new booking office, 2 extra tracks, the renovation of the old station house to a waiting room, new lifts and a large car park. We moved into the new booking office in April 2009. It was hard to work around all these works at the time but the end results have been very welcome.'
Patricia is also well known for the wonderful displays that are in place at the booking office. 'In 2005, I started to do Christmas displays in Hazelhatch, I had a Christmas tree and decorations up in the office. When we moved to the new booking office in 2009, people used to say it was like Santa's Grotto as it was a bigger display which was great. Kids loved it and I had a letter box for Santa's letters. It went down well with passengers so I then decided to do a Easter and a Halloween window. I have continued this ever since! I have old photos going back to 1994 when we first opened and photos of when works were being carried out on the new station. Customers take great interest in these when passing through.'
We asked Patricia how does it feel to win the Best Station in Ireland Award. 'It was great feeling to win the overall award and to know that hard work has paid off.' Being a local, she has been enjoying the congratulations she has received from people in the area.
It was the second time Hazelhatch has received Overall Best Station, and it has picked up the Best Commuter Station Award 6 times.
Away from Station life, Patricia likes to spend her time in the gym and refers to herself as a 'Gym Bunny'. She likes to walk, particularly by the sea and enjoys nights out dancing. Music is a passion, she enjoys the piano and is a big fan of Michael English, Nathan Carter, Ed Sheeran and Michael Buble. Some of her spare time still comes back to her passion for the railway ' I really enjoy the RPSI Steam Trains outings, and love to see the trains as the pass through stations. My favourites are Loco 461 and Merlin 85'
Congratulations to Patricia and her colleagues in Hazelhatch for all their success!
Print