DART+ West Public Consultation Process
Public participation is a key element to the delivery of major infrastructure projects such as DART+ MaynoothLine . There are three main opportunities to provide feedback to the scheme development and Railway Order approval process as outlined below:
Public Consultation No.1 Emerging Preferred Option (Q3 2020 – Current Stage)
Public Consultation No.2 Preferred Option (Q4 2020)
Statutory Consultation Period as part of the Railway Order application process (Q2 2021)
These are highlighted in graphical form below: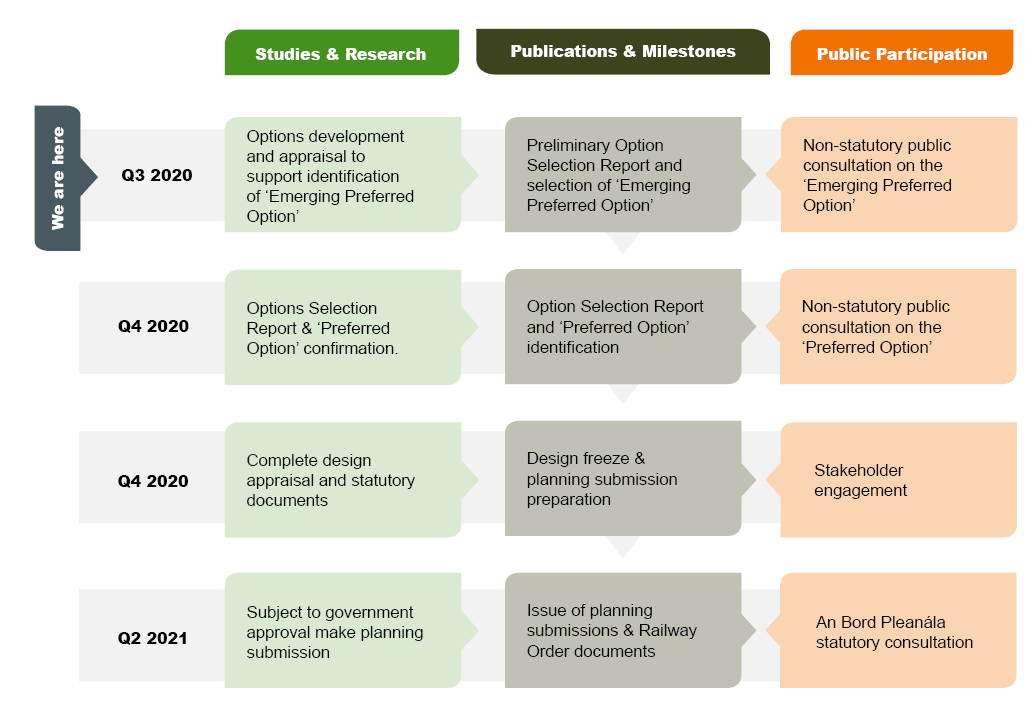 Graphic showing public participation in the option selection, design and Railway Order process
Click link on image for an accessible version of the graph
Public feedback will be accepted during all stages of the design development and can be submitted through the project website, e-mail address, phoneline or by written correspondence. For further details see the 'How to engage' section.
Iarnród Éireann invites the public to engage in the design process and all feedback is welcome.
COVID-19
Due to the Covid-19 pandemic we have been restricted from holding public information events or undertaking face to face meetings. We are undertaking a digital Public Consultation on the Emerging Preferred Option, but as restrictions ease we hope to be able to meet community groups and local bodies in person prior to a public information (roadshow) event to present the Preferred Option in Autumn 2020.

The preliminary options assessment studies have led to the identification of the Emerging Preferred Options as presented.
Here you will find information on Option Selection & Design development, the Railway Oroder Process and Property Acquistion
Print